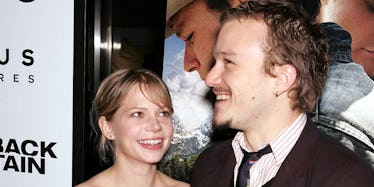 Michelle Williams Talking Life Without Heath Ledger Will Break Your Heart
REX/Shutterstock
Michelle Williams says there is only one thing in her life she just can't accept: Heath Ledger's death.
This January will mark the ninth anniversary of the death of the then 28-year-old actor, who overdosed on prescription medication in 2008.
He left behind his daughter with Williams, Matilda, who is now 11 years old, but was only 2 at the time of his death.
Williams recently spoke about the death of her ex-boyfriend and father of her child in the winter issue of Porter magazine.
The 36-year-old actress dated Ledger from 2004 to 2007, and though they split before his death, obviously it's had a lasting impact on her and her daughter's life.
She told the magazine,
In all honesty, for pretty much everything else, I feel like I'm a believer in not fighting circumstances, accepting where you are and where you've been. In pretty much all senses but one, I would be able to go totally down that line of thinking were it not for Matilda not having her dad. You know, that's just something that doesn't… I mean, it just won't ever be right.
Williams briefly dated director Spike Jonze from 2008 to 2009 and most recently dated Jason Segel, but is currently single.
She admitted to Porter the dating game hasn't been easy for her.
She said,
Talk about a learning process. I think, God, what would I say about it? I feel really sensitive about it and certainly did not expect to still be dating at 36 with an 11-year-old. This is not what I imagined. I'm like a cat, I'm a very domestic creature. I just want to stay home and take care of people. But I'm also happy with myself and just because I might have a desire to be with someone… that won't lead me to marry the wrong person.
Williams is taking advice from her married friends, but it's not all good news.
"Freaks and Geeks" actress and longtime friend of Williams' Busy Philipps told her friend to go for the divorcees at this point.
Williams said,
My friend Busy and her husband Marc (Silverstein) said, 'Michelle, you're in like a blackout zone, everybody is now partnered up and you have to wait for people to start getting divorced.' Oh my fucking God. Are you kidding me? I'm just sitting around and waiting for marriages to crumble? Oh wow! No!
To read the full interview with Williams, check out the latest issue of Porter magazine, on stands December 2.
Citations: Read Michelle Williams' heartbreaking words about raising her daughter without Heath Ledger (Metro)