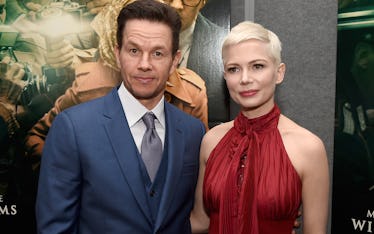 Michelle Williams Only Made 1 Percent Of Mark Wahlberg's Paycheck & Women Are Furious – UPDATE
All The Money In The World was lauded for its quick replacement of Kevin Spacey after allegations of his history of sexual harassment/abuse came to light in 2017. Director Ridley Scott replaced Spacey with actor Christopher Plummer and reshot all of the necessary scenes just six weeks before the movie's debut. That meant the film's other stars, Michelle Williams and Mark Wahlberg, had to reshoot the scenes they had with Spacey as well. Scott originally said the actors reshot the scenes for little to no pay, but it's been reported that Michelle Williams only made 1 percent of her male co-star's paycheck to reshoot those scenes. Face, meet palm. Elite Daily reached out to Mark Wahlberg's team for comment, but did not hear back by time of publication.
Update: According to Entertainment Tonight, a source says Michelle Williams volunteered to "waive any fee" for reshooting Kevin Spacey's scenes in All The Money In The World following Spacey's sexual misconduct allegations.
Williams reportedly spoke with ET Canada last month and conveyed her desire to save the film. She explained, "When this idea was hatched – that we were gonna go in and try to rewrite history – I was on the frontline ... I was like, 'You can have my salary, you can just take it, I don't even do it… that's not why I work. If that'll help you, you can have it, you can have my break and you can have whatever and I'll just be there waiting."
Ladies, take a deep breath and make sure you're sitting down before reading this. Men, just listen. Mark Wahlberg was reportedly paid $1.5 million to reshoot his All The Money In The World scenes. Michelle Williams reportedly was paid less than $1,000. That is just 1 percent of Wahlberg's paycheck. Yes, I was pretty much slamming my hands on my keyboard as I typed that. In previous interviews, Scott said the cast and crew returned for a week to reshoot the scenes and "everyone did it for nothing." Entertainment Weekly reports that while the rest of the cast voluntarily reshot the scenes for little pay because they agreed with Scott's decision to recast Spacey, Wahlberg's representation reportedly negotiated him an extra $1.5 million because, you know, men need all the money in the world! (Not going to apologize for that one.)
USA TODAY reports while Wahlberg was paid $1.5 million to do the week of reshoots, Williams was being paid on an $80 per diem basis that ended up totaling less than $1,000. It reportedly cost around $10 million total to reshoot all of the necessary scenes ahead of its Christmastime release. This was originally reported by The Washington Post back in November 2017, but it's making more waves now.
Scott told USA TODAY back in December, "The whole reshoot was — in normal terms was expensive but not as expensive as you think. Because all of them, everyone did it for nothing." Scott noted he did not accept any pay for the reshoots himself before adding, "No, [the actors] came in free. Christopher had to get paid. But Michelle, no. Me, no. I wouldn't do that." Scott said the crew was paid for their work, though it's not reported how much. USA TODAY also reports that Williams was never told of Wahlberg's paycheck for the reshoots.
Obviously, women in and out of Hollywood are pissed, as are a lot of men.
Sure, it could be argued that Williams possibly voluntarily reshot the scenes for less pay because she didn't feel it was necessary to negotiate for more given the circumstances. But if the film was willing and had the budget to negotiate that high with Wahlberg, maybe, just maybe, they could've thought, "Hmmm, if we're paying Mark this much to do the same work as Michelle, we should probably offer this to her as well for the sake of transparency and equality. Or at the very least tell her."
But why would people think like that, right?! It's the woman's job to make sure she's being treated fairly, it's not the responsibility of her employer to make sure she's being treated fairly from the get go, right?! This is just good business, right?! This is exactly why the Time's Up fund was created. For bullsh*t like this. And it would be another thing entirely if this could just be blamed on bad representation for Williams, but guys, Williams and Wahlberg are represented by the same agency, WME. There's really no excuse here.
The other most notable thing here is that Williams didn't try to capitalize off of the Kevin Spacey scandal whereas Wahlberg totally used it to his advantage.
It's not necessarily wrong — Wahlberg can do whatever he wants. It's just sleazy.
People have been quick to note that Williams' performance in All The Money In The World got her a Golden Globe nomination and quite possibly an Oscar nomination, while Wahlberg's performance hasn't gotten any attention at all.
So, yet again, a talented actress who out-performed her male co-star was paid less than her male co-star because, well, he's the male co-star. It'd be interesting (to say the least) to see what Williams and Wahlberg were paid for the entire film, not just the reshoots.