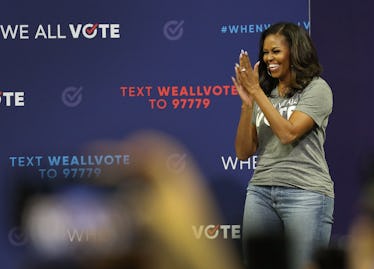 Michelle Obama's Tweet About Her Tiniest Fan's Halloween Costume Is Just Adorable
Joe Raedle/Getty Images News/Getty Images
If you've been needing a break from the frenzy of politics as the country is just days away from the midterm elections, you're not the only one. The former first lady apparently needed to take a moment to appreciate something other than polls this week. Michelle Obama's tweet about Parker Curry's Halloween costume won the internet on Thursday, after the first lady's biggest fan came up with the best Halloween costume — Obama herself.
The original tweet came from an account for Parker Curry — the adorable little girl who was became famous after a photo of her staring awestruck at Michelle Obama's official portrait went viral.
So it hit the Twitterverse like a basket of frolicking puppies when little Parker shared a photo of herself as Obama as seen in the portrait, striking the same pose and wearing (how'd she find the time to make that?!?) a miniature version of the same dress. "Can you guess who I am?" read the tweet from Oct. 31, with a photo of Parker dressed up as Amy Sherald's iconic portrait of her idol.
Per NBC, three-year-old Parker said "I want to be Michelle Obama" when her parents asked what she wanted to be for Halloween. Parker's mom, Jessica Curry, obliged — whipping together a custom-made mini FLOTUS dress in just a week and a half.
Apparently Michelle Obama was a fan. Her handle shared the photo with the caption, "You nailed the look, Parker! I love it!!!!"
Twitter users were understandably loving the tiny FLOTUS.
"Everybody get ready to feel some FEELINGS," tweeted journalist David Mack, sharing the photo of Parker looking at Obama's photo alongside the Halloween doppelgänger version.
"This makes the dark world a lot brighter," wrote Roland Scahill in reply.
Back in May, when the first photo of Parker looking at Obama's portrait went viral, Curry wrote an op-ed in The New York Times about the experience and the larger importance of it. Amidst her daughter's momentary celebrity, the more critical message, she wrote, was:
Representation matters. It's important to me that I raise daughters who have the opportunity to see women who look like them doing great things. Only by being exposed to brilliant, intelligent, kind black women can my girls and other girls of color really understand that their goals and dreams are within reach.
The story of Parker's viral moment is even more meaningful when you think about what Obama said about her portrait and what she hoped it represented at the unveiling in Washington, D.C. on Feb. 12, 2018. She said,
This is all a little bit overwhelming, especially when I think about all of the young people who will visit the National Portrait Gallery and see this, including so many young girls and young girls of color who don't often see their images displayed in beautiful and iconic ways. I am so proud to help make that kind of history.
Beautiful and iconic is right. Princesses, mermaids, and other popular Halloween costumes may be the stuff of fantasy (and the country still has yet to have a woman president, either), but the former first lady is very real. Not a bad choice for a costume, Parker.