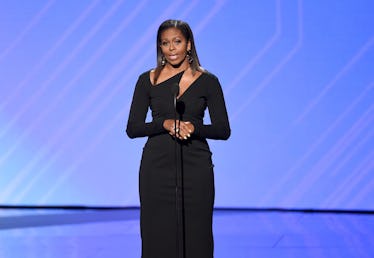 Michelle Obama Is, Uh, Pretty Clear About Her Opinions On Donald Trump
Kevin Winter/Getty Images Entertainment/Getty Images
I don't think it's news to anyone that Michelle Obama was on the Hillary Clinton side of the campaign line during the 2016 election. For one thing, the former first lady gave Clinton a glowing endorsement during the Democratic National Convention, and continued her support through the campaign. In light of that, these Michelle Obama quotes about Donald Trump are not at all surprising. But that doesn't mean they're not enjoyable.
Former first lady Obama, the woman behind the catchphrase "when they go low, you go high," has obviously never been one to get down in the dirt and sling mud with everyone else. But she definitely had a few choice words about President Donald Trump through the 2016 campaign — and once he snagged the Oval Office, too.
Throughout the 2016 campaign and beyond, Obama knew exactly when to speak up and when to speak out against Trump. She was a master of what to say, how to say it, and when. In fact, Obama was able to throw some masterful disdain Trump's way, all without ever going low. The former first lady was never mean, or rude, or anything but concisely, eloquently critical — and always with facts to back up her criticisms, which, if I may say so, makes it all even better. Allow me to walk you through some prime examples.