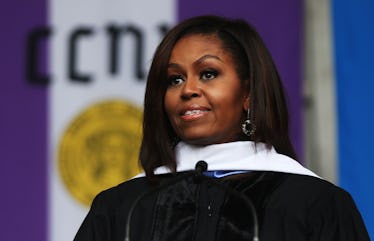 Michelle Obama Posted A Message For 2018 Graduates & It Got Personal
Spencer Platt/Getty Images News/Getty Images
The former first lady of the United States has a special message for class of 2018 graduates, and it features a personal story. Michelle Obama's graduation message was posted Tuesday, May 22 for her 20 million followers on Instagram. She began the message focusing on her time as an undergraduate Ivy League student.
"This is me at Princeton in the early 1980s," the caption for her photo read. "I know that being a first-generation college student can be scary, because it was scary for me. I was black and from a working-class neighborhood in Chicago, while Princeton's student body was generally white and well-to-do. I'd never stood out in a crowd or a classroom because of the color of my skin before. But I found close friends and a mentor who gave me the confidence to be myself."
Obama's post featured a picture of her younger self — hair braided and all — and eventually transitioned into a congratulatory message for 2018 graduates.
"Going to college is hard work, but every day I meet people whose lives have been profoundly changed by education, just as mine was," her post's caption reads. "My advice to students is to be brave and stay with it. Congratulations to the Class of 2018!"
Michelle Obama's message comes during a month when many college students officially turn to former students, with graduation ceremonies held all across the country during May.
The former first lady has also talked about how going through college as a first generation student affected her outlook on higher education, even admitting that she wouldn't have considered Princeton if her brother hadn't been a recruited athlete.
"The truth is that if Princeton hadn't found my brother as a basketball recruit, and if I hadn't seen that he could succeed on a campus like that, it never would have occurred to me to apply to that school — never. And I know that there are so many kids out there just like me," Obama told a group of low-income students in 2014, per The Washington Post.
Obama graduated magna cum laude at Princeton in 1985 and later earned her law degree from Harvard.
Obama's graduation message wasn't the only personal story she's shared recently. The Chicago native has posted a series of throwback pics in a span of days, in an effort to preview her forthcoming book.
"Over the next few days, I'll be sharing some photos and memories from my book, BECOMING," she wrote in a separate post on Tuesday. That particular post featured Obama, her mother and her late father sitting on a couch.
"My father, Fraser, taught me to work hard, laugh often, and keep my word," the caption reads. "My mother, Marian, showed me how to think for myself and to use my voice. Together, in our cramped apartment on the South Side of Chicago, my family helped me see the value in our story, in my story, and in the larger story of our country."
In another post, she detailed a story from her wedding day in the early 90s, which, of course, featured former President Barack Obama.
"You can't tell it from this photo, but Barack woke up on our wedding day in October, 1992 with a nasty head cold. Somehow, by the time I met him at the altar, it had miraculously disappeared and we ended up dancing almost all night," the caption for her throwback wedding photo read.
Last October, the couple celebrated their 25th anniversary.
Michelle Obama's latest book is set to hit stores in November, and it promises to share plenty more personal stories. In the meantime, the former first lady is sharing short previews on Instagram, one of them being a special graduation message for the class of 2018.