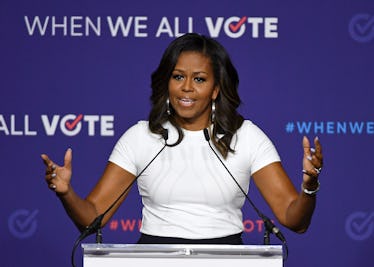 Michelle Obama Reportedly Officiated Someone's Wedding Because What Can't She Do
Ethan Miller/Getty Images News/Getty Images
The former first lady keeps proving that we (still) haven't seen the last of her. But unlike her more recent spotlight moments, her latest foray has nothing to do with a push for activism. According to reports, Michelle Obama officiated a wedding this weekend, of all things.
The couple, Stephanie Rivkin and Joel Sircus, were married at Theater on the Lake in Chicago, on Saturday, Sept. 22, The New York Times reports. Rivkin, 27, and Sircus, 26, reportedly met in high school in Chicago, and both went on to graduate cum laude from Yale. (Power couple #goals.)
While reports out there are saying that Obama officiated the wedding, it's not clear what role she had in the ceremony. Per the Times, the ceremony was led by someone else, but Obama did appear to help the couple deliver their vows. A now-deleted Instagram story from one of the wedding's attendees published by TMZ, appeared to show Obama wearing a sleek black dress and reading the vows for Rivkin to repeat back to her. The video was captioned, "Holy Moly" and "That moment when Michelle Obama officiated at your cousin's wedding." (TBH, if it were me, it wouldn't really matter what role the former first lady had in the wedding, I wouldn't be complaining.) Elite Daily reached out to a representative for Obama for confirmation or comment, but didn't immediately hear back.
The couple apparently had an in with the Obamas (so for any of you *hoping* that the former first lady will make a guest appearance in your own nuptials, this may be the ticket). Per The New York Times, the bride is the daughter of Chicago deputy mayor Robert Rivkin and Cindy Moelis, who presides over a foundation started by one of Obama's former commerce secretaries. So there you have it.
Online, people understandably fangirled over the first lady's appearance.
Michelle isn't the only Obama to have apparently officiated (or helped) in a wedding. Earlier this year, President Barack Obama himself, like his wife Michelle, helped a couple tie the knot. (For that one, the former president did officiate.)
It makes it all the more impressive, though, that she found the time to drop into a wedding on Saturday given all the other (presumably time-consuming) things she's up to this week. In fact, the first lady has been notably active since leaving the East Wing. On Monday, Sept. 24, she launched her "When We All Vote" campaign, aimed at getting young people to the polls for the midterm elections in November. (Earlier this month, Barack, too, took to the mic to call on people to show up and vote.)
The former first lady also wrote a book, entitled Becoming, which she happens to be on tour right now to promote. If you're the pre-order type of fan, you should know that she'll be stopping in 10 cities on the book tour, and the price of admission is pretty steep, with some tickets ranging up to $3,000, per TMZ. So if you want to see her in action — outside of, say, getting invited to a wedding where she's actually in the ceremony — this is your best bet.