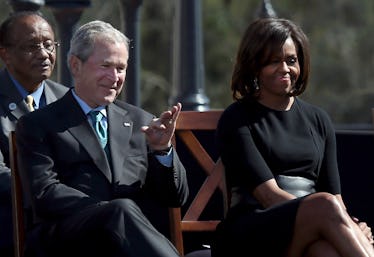 Michelle Obama & George W. Bush Shared A Sweet Moment At George H.W. Bush's Funeral
Justin Sullivan/Getty Images News/Getty Images
Remember when the internet caught President George W. Bush handing Michelle Obama a candy during Sen. John McCain's funeral in September? Well get ready to say "aww" again. Michelle Obama and George W. Bush had another sweet moment at George H.W. Bush's funeral on Dec. 5, in the form of a sweet callback. Even in a time of mourning, there are bright spots.
Former president George H.W. Bush passed away on Friday, Nov. 30 at the age of 94. On Wednesday, Dec. 5 friends, family, world leaders, and fellow presidents gathered to pay respect at H.W. Bush's state funeral held at the National Cathedral in Washington D.C. His son, President George W. Bush, was joined by three other former presidents: President Barack Obama, President Bill Clinton, and President Jimmy Carter, as well as current president Donald Trump. After the family entered, Bush and his wife, Laura Bush, went over to greet the former presidents who were already seated in the pew. When it came time for Bush to shake Obama's hand, it looked like he handed her something — continuing the tradition— and the former first lady took it, giggled, and smiled as can be seen in a video shared by social media editor at ABC Evan McMurry. So it's officially an inside joke now, right?
Bush and Obama were seated next to each other at McCain's funeral in September, and Twitter noticed that at one point Bush took a candy from his wife and handed it to Obama. Because folks on Twitter never miss a thing, they were all over it.
Following that viral moment between Bush and Obama, the former first lady discussed her candy exchange during an October appearance on the Today show. Obama explained that she and Bush are usually seated next to each other at official functions, so they've become "partner[s] in crime." Obama said,
He is my partner in crime at every major thing where all the formers gather. So we're together all the time, and I love him to death. He's a wonderful man. He's a funny man.
During her interview, Obama also answered the question everyone was really dying to know: what sort of candy did he actually hand her? The answer was "old cough drops." OK, so that's not the most glamorous candy, but it turns out that they're actually from when Bush was still president. Obama explained how the cough drops were in a White House box which made her question the expiration date a bit. She said on the Today show,
That's the funny thing, because they were in the little White House box, and I was like, 'How long have you had these?' And he said, 'A long time, we got a lot of these!'
Something tells me that cough drops don't age quite like fine wine, but the idea that Bush just has a bunch of old presidential cough drops lying around — which he will now probably share with Obama at every official function to come — is pretty great. At the very least, it's a beautiful moment of connection on a sad day. Let's hope for more connections (and cough drops) in future.