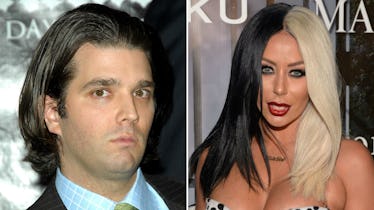 Trump's Lawyer Reportedly Stopped A 2013 Story About Donald Jr. & Aubrey O'Day
Michael Tullberg/Joe Corrigan/Getty Images
It has been said that Michael Cohen would take a bullet for Donald Trump, and a newWall Street Journal report suggests that Cohen's dedication might also extend to Trump's eldest son who bears the same name. In the latest news to come out about the Trump family and Cohen, Cohen reportedly stopped a 2013 expose about Donald Trump Jr. and Aubrey O'Day's alleged affair, according to the Journal.
Trump Jr. was a judge on The Celebrity Apprentice when the alleged affair with contestant and singer O'Day took place. (Elite Daily reached out to Trump Jr. and O'Day's representatives about allegations of an affair, but did not hear back.)
Us Weekly, then-owned by Wenner Media, was reportedly working on an exposé about the alleged affair in 2013, and reporters called the Trump Organization for comment, the Journal reported, citing unnamed sources. Staffers at Us Weekly reportedly received a call back from an irate Cohen, who was threatening legal action. (To date, neither Trump Jr. nor O'Day have confirmed the affair happened. O'Day released a song in 2013 titled "DJT" which is speculated to be about Trump Jr, but has not been confirmed.)
"We were all on speakerphone and huddled around the phone," an unnamed source claimed to the Journal. "He was just one of these New York characters where he was just like swearing at us and totally over-the-top threatening." Elite Daily reached out to Wenner Media, the then-owner of Us Weekly, to verify the existence of the 2013 story, but did not hear back at time of publication.
Apparently Us Weekly didn't want the legal headache, so they dropped the story at the time. They did, however, report on the alleged affair last month after Vanessa Trump filed for an uncontested divorce from Trump Jr. in Manhattan Supreme Court.
Elite Daily reached out to Manhattan-based law firm, McDermott Will & Emery, which represents Cohen, about the 2013 exposé, but did not hear back at time of publication.
Cohen has something of a reputation for getting things done. Matt Apuzzo, who covers law enforcement for The New York Times, broke the news on April 9 that Cohen's office and hotel room had been raided by federal agents. In an April 9 episode of the Times' podcast The Daily, he described what his reporting had found about Cohen's relationship with the president.
"Michael Cohen has been with President Trump for a decade," Apuzzo said. "And he plays different roles at different times. He's a trusted confidant and he is a reliable attack dog. He's a fixer. He makes problems go away, and he's extremely loyal to the president."
Loyalty is a value Cohen and Trump apparently share, which could explain why his alleged torpedoing of the Us Weekly story was so dogged — if true, he was protecting those to whom he is extremely loyal.
Cohen told Vanity Fair in September 2017, "At times I wish I were there in D.C. more, sitting with him in the Oval Office, like we used to at Trump Tower, to protect him," Cohen said, adding, "There are guys who are very loyal to him that would have gone in, but there was a concerted effort by high-ranking individuals to keep out loyalists."
The Journal reported the details about the alleged 2013 Us Weekly story as part of a larger piece about Cohen's alleged hush-money payments. Cohen reportedly used a Delaware limited-liability company to make payments relating to alleged sexual encounters involving two his clients, per the Journal. One of those two alleged secret payments was $130,000 given to adult film actress Stephanie Clifford, aka Stormy Daniels, per the Journal. The payment was made 12 days before the presidential election. While Cohen has admitted to making the payment, he said it had nothing to do with the Trump campaign, and President Trump has said he had no knowledge of the payment.
The other payment that allegedly came through the Delaware company — a $62,500 initial installment of Cohen's total $250,000 fee — was reportedly regarding a Playboy Playmate who allegedly had a relationship with Elliott Broidy, a major GOP donor and venture capitalist. That Playboy model claimed Broidy had impregnated her, according to the Journal. Broidy reportedly paid the remaining fee directly to Cohen, per the Journal, after the fact that the Clifford payment was made through the same Delaware company became public.
"I acknowledge I had a consensual relationship with a Playboy Playmate," Broidy said in a statement on Friday, April 13. "At the end of our relationship, this woman shared with me that she was pregnant. She alone decided that she did not want to continue with the pregnancy and I offered to help her financially during this difficult period. We have not spoken since that time."
It's unclear what exactly these new revelations mean for Cohen going forward, other than that the investigation into his financial history seems to be intensifying.