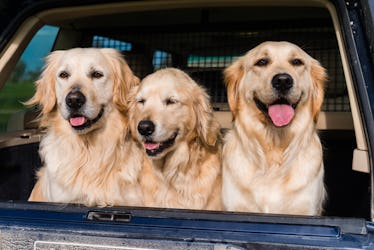 Merriam-Webster Tweeted About "Doggos" & Got Bombarded By Cute Dog Pics
If you're a dog enthusiast or an internet habitué, you're probably already familiar with the term "doggo." Used to describe a good boy or girl — and not to be confused with the term "pupper" — "doggo" is a newly popularized term that refers to dogs. Although it's popular on the internet, the term "doggo" made its long-awaited big break for grammar fans everywhere when Merriam-Webster's tweet about "doggos" went viral... and it had all of Twitter posting pics of their good boys and girls.
If Merriam-Webster wasn't already everyone's go-to dictionary, their viral tweet about "doggos" really raised their 'cred and officially won over everyone's hearts on Twitter. The famous post went live on Dec. 27 and featured a photo of two extremely good boys staying cozy in the snow while wrapped in a giant scarf. The word "doggos" was written in the tweet, along with a link to an article from a section of their site called "Words We're Watching."
After their doggo tweet went live, the Twitterverse went wild, making it their grand mission to show Merriam-Webster some doggos of their own. From rescues and pups to big doggos and small doggos, Twitter came in clutch and posted some pretty amazing puppy pics.
Wow, just take a gander at the wide varieties of doggos people have! Each pup is beyond amazing in their own way. These owners totally showed Merriam-Webster the true meaning of "doggo."
Below is a doggo of the mushy pug variety...
... and here is a lovely adopted doggo doing a smile.
This is a one-eyed boy, better known as One Eyed Joe. We freaking love him.
This here is a "corgo."
For those who aren't yet familiar, a "corgo" a hybrid of a "corgi" and a "doggo." The more you know!
For those who aren't yet familiar, a "corgo" a hybrid of a "corgi" and a "doggo." The more you know!
These two doggos are very much in love, and we're totally here for it.
Wow, this Twitter user has a doggo and a pupper? #Blessed.
Following the frenzy of doggo pics, some proceeded to take the liberty of posting their "kitters," better known as "cats." And even though "kitter" hasn't been officially recognized by the Merriam-Webster... it's cool, I guess. You go, kitters. We support you, too.
In Merriam-Webster's blog series titled Words We're Watching, they explain that the term, "doggo," started out as 19th century slang. The phrase, "lying doggo" was used to mean "to stay under the radar" well into the 20th century. Merriam-Webster speculates how this phrase came to be, and it's assumed that it refers to the fact that dogs are light sleepers. From there, "doggo" became known as a dog repellant for gardens in the 1930s. In 1977, Mary Tyler Moore's "We've Got Each Other" uses the phrase "El Doggo," to mean "pretty bad."
"Doggo" was then most recently made fashionable in 2016, originating among the tweets of beloved pup account, @dog_rates. The beloved term is now used and appreciated by "dog people" everywhere — and now it's even being recognized by the freaking dictionary. We're seriously hoping "doggo" is added to the dictionary before 2017 ends, because that would totally make our year.
So, if Merriam-Webster wasn't already your dictionary of choice, it definitely should be now. They're hip, they love doggos, and they respect hilarious and adorable internet memes. We strongly suggest taking a look at the Twitter thread too, because looking at other people's cute fur babies is pretty much my pastime of choice. Reply to the thread with a pic of your pup, because the doggo-love goes on, and on.
Check out the entire Gen Why series and other videos on Facebook and the Bustle app across Apple TV, Roku, and Amazon Fire TV.