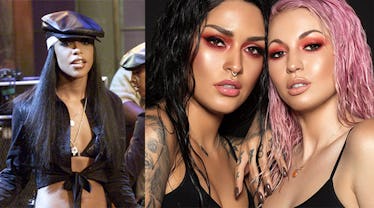 Melt Cosmetics' Aaliyah Makeup Collection Will Have You Looking Like One In A Million
Kevin Winter/Getty Images Entertainment/Getty Images/Melt Cosmetics
The '90s aesthetic has made a comeback that isn't fading anytime soon. Contoured lip liner, sparkly body glitter, and frosty blue eyeshadow trends have made it easier for us to emulate our favorite singers from way back when. If Aaliyah was your baby girl, then Melt Cosmetics' Aaliyah Makeup Collection will certainly make you feel like "One In A Million." Melt's latest collection honors the late singer and will help you to channel her beauty, depth, and confidence.
In August 2001, I was 9 years old. I remember twirling around my living room, mindlessly singing "if at first you don't succeed, dust yourself off an try again." Though I was too young to understand much about life, I also remember hearing about the premature passing of the singer in a tragic plane crash. The Grammy-winning R&B artist Aaliyah helped to redefine contemporary R&B. "More Than A Woman," "Try Again," and "Are You That Somebody," topped that charts and found a permanent place in fans' hearts. Aaliyah lives on in her music and the legend she created. Beyoncé, Rihanna, Alicia Keys, and more all stand on the shoulders of the icon. Without her immense contributions, music as we know it would be fundamentally different.
Aaliyah was not only a musical wonder, but she was a straight up beauty icon, too. Do you remember her shimmery green eyeshadow and iridescent dark lip from the "Are You That Somebody" video?
How about the dramatic silver smokey eye and glossy nude lip moment from "Try Again."
Of course, there's always the gorgeous, ahead-of-its time rust and nude moment from the cover of her final album, simply entitled Aaliyah.
Recently, Melt Cosmetics announced that it would be coming out with a new Melt Shadow stack and fans quickly put two and two together. The stack itself is called The Baby Girl Stack ($58; meltcosmetics.com) referencing Aaliyah's nickname of Baby Girl.
According to Trendmood, the stack even contains shades named after Aaliyah's song lyrics, like "Come Over" and "Dust Yourself Off."
The color story itself certainly harkens back to the album cover art for Aaliyah. With its rusty hues and mix of matte and iridescent finishes, there's no denying this stackable palette was inspired by the singer. Though there's no mention of Aaliyah's name on the Melt Cosmetics site or Instagram, the inspiration is clear. This palette will help you channel some beauty vibes from your favorite '90s icon.
The shadows look even better in action. Melt Cosmetics brand founders Lora Arellano and Dana Bomar rocked varying looks utilizing the new product. The result is, dare I say, "Hot Like Fire." That pink inner corner highlight is absolutely everything.
Fans of Aaliyah and Melt Cosmetics were thrilled when they heard about the brand new collection honoring the late, great singer. This Twitter user, for example, was overwhelmed with "luv."
Other Melt Cosmetics fans were just shook by the announcement product itself. If you've used Melt Cosmetics shadows in the past, then you know why.
Melt's products are totally cruelty-free and artist approved. After all, both Bomar and Arellano are makeup artists themselves, so they know what to look for when creating a high quality product. They're blendable, buildable, and totally unique. Plus, the packaging is just so rad. Fans of the brand are committed, and for good reason. The product holds up.
According to Bustle, the shadows will drop on the Melt Cosmetics website at 12 p.m. PT on March 23. Set your alarms, folks. You definitely won't want to miss out on this Aaliyah-inspired shadow stack. Now you can channel Princess of R&B vibes all day long as you sing "tell me are you that somebody?" into your hairbrush in your living room.