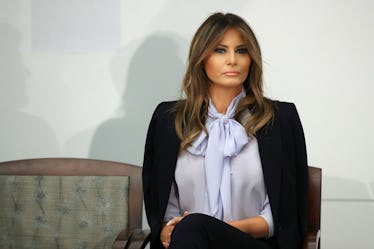 FLOTUS Is Not Happy Over T.I. Featuring A Naked Melania Trump Lookalike In This Video
Chip Somodevilla/Getty Images News/Getty Images
There are a lot of ways to protest President Donald Trump and his White House, and for rapper T.I. that meant a music video featuring a stripped down, fake first lady. On Friday Oct. 12, the rapper released a short video, featuring a lookalike of the first lady who strips down and does a sexy dance in the middle of the Oval Office. It's not out of the ordinary for a music video, but it's definitely more than a little wild for the White House. As you might have guessed, Melania Trump's response to T.I.'s video featuring her lookalike is not at all happy. Love the first lady or or hate her, that's a pretty fair reaction.
On Saturday, Oct. 13, the first lady's spokesperson Stephanie Grisham called for a boycott of T.I. over his promo video. She retweeted Entertainment Weekly's tweet of T.I.'s video and commented, "How is this acceptable? #disgusting #boycottT.I." The first lady's official Twitter account later retweeted Grisham's comment. Elite Daily reached out to both Grisham and representatives of T.I. for further comment on the video and the response, but did not immediately hear back.
In a statement to CNN on Oct. 17, Grisham said that regardless of people's feelings towards Trump, she is the first lady and T.I.'s portrayal of her is "disrespectful and disgusting," calling the attack "vulgar." She said,
Like it or not, she is the first lady and this is the White House. It's disrespectful and disgusting to portray her this way simply because of politics. These kinds of vulgar attacks only further the divisiveness and bias in our country — it needs to stop.
On Friday, Oct. 12, T.I. tweeted out a clip aimed right at President Trump. While the video clip was meant to promote the rapper's upcoming album Dime Trap, it turned out to be way more scandalous. The video starts off with real footage of the president boarding Air Force One en route to Mar-a-Lago sans FLOTUS. So where is the first lady? Cut to a scene of T.I. suited up in the Oval Office, when a Melania Trump lookalike walks in sporting the infamous "I don't really care, do U" jacket the first lady wore during a June trip to Texas to visit detained children at the U.S.-Mexico border. The knockoff first lady removes the jacket and proceeds to dance on the desk completely naked. The caption on the tweet, read, "Dear 45, I ain't Kanye," pointing out the fact that unlike Kanye West, who is a public fan of the president and loves wearing his "Make America Great Again" cap, T.I. does not share the same sentiment. Elite Daily reached out to T.I. for additional comment on the video and the criticism from the first lady's office, but did not immediately hear back.
While there are many people out there who have no love for Trump or her husband, T.I.'s chosen form of "protest" might have taken things a little too far by going after the first lady in this way. There are better ways to protest than by sexualizing a woman without her permission, regardless of who she is or how you feel about her. Many people on Twitter called the rapper out, stating that there are better ways to speak out publicly against the Trump administration than by demeaning the first lady.
The fact that T.I. would sexualize Trump in order to speak out against the president is a little ironic given the fact President Trump has been known to say some less than savory things about women. In 2000, during an appearance on the Howard Stern Show, he ranked famous women he wanted to sleep with. During another chat with Stern in 2003, he complimented his daughter Ivanka Trump for having the "best body."
Everyone has a right to call Trump out, but it looks like T.I. might have chosen the wrong way to do it. TBH, it's really no surprise that FLOTUS is upset by it.