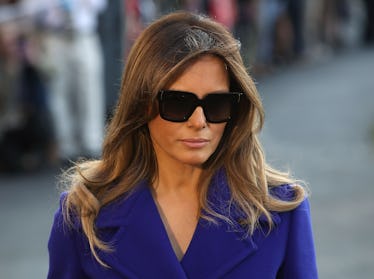 Melania Trump Revealed Her Favorite TV Show & It's Not What You'd Expect
Mark Wilson/Getty Images News/Getty Images
If there's anything we've learned from reports about President Donald Trump's TV habits, it's that living a busy life inside the White House doesn't preclude a person from having a few favorite shows. The same can be said for First Lady Melania Trump, who recently revealed to The New York Times' reporter Katie Rogers what she likes to watch in her downtime. Rogers shared what Melania Trump's favorite TV show is, along with other nuggets about the White House's views on pop culture, in a conversation with two other Times reporters, which was published by the paper on Tuesday, Dec. 26.
"Melania Trump recently told me her favorite show is How To Get Away With Murder," Rogers said. "I love that the first lady is a Shondaland fan. She also enjoys Empire. And reality TV did not come up once."
Yep, Melania Trump's favorite TV show is literally all about mystery — oh, and murder, definitely murder. On the one hand, it's not really a surprise that the first lady digs How To Get Away With Murder. After all, producer Shonda Rhimes' work — or, as Rogers calls it, "Shondaland" — is only getting more popular these days. That part about what Trump likes is pretty relatable.
The fact that Trump didn't mention reality TV, on the other hand, is a bit ironic since, you know, her whole family has been featured in a (rather successful) reality show, The Apprentice. Then there's the fact that the Trump administration has a habit for building anticipation around big announcements like a literal reality show.
Matt Flegenheimer, another Times reporter who participated in the conversation published on Tuesday, pointed at that fact.
"Trump has told aides that he views each day as a TV episode of sorts," Flegenheimer said. "And you can hear him read the stage directions sometimes, as our colleague Jonathan Martin likes to say. 'Stay tuned!' "We'll be saying something big tomorrow!'"
It really is a good point. After all, who could forgot when Trump very publicly interviewed high profile candidates for the secretary of state job, paraded them around on dates, Bachelorette style, and teased whether they would get the job on Twitter?
"Whether I choose him or not for "State"- Rex Tillerson, the Chairman & CEO of ExxonMobil, is a world class player and dealmaker," President Trump said back in December 2016. Then he said the magic words, "Stay tuned!"
How about that time that the president talked about the future of health care like it was a TV drama?
"As I have always said, let ObamaCare fail and then come together and do a great healthcare plan," President Trump tweeted back in July. "Stay tuned!"
There's also that time that President Trump teased a prime time special. And by "prime time special" I mean the televised announcement of his pick for a Supreme Court nominee to fill the seat of recently deceased Justice Antonin Scalia.
"I have made my decision on who I will nominate for The United States Supreme Court. It will be announced live on Tuesday at 8:00 P.M.," the president tweeted in January.
President Trump even has the habit of teasing things that seemingly don't need to be teased.
"It was a great privilege to meet with President Moon of South Korea," he tweeted after a diplomatic meeting in September. "Stay tuned!"
Let's also not forget that reality TV has literally hit home for Melania Trump. Earlier this month, former Apprentice star Omarosa — who has also been working in the White House — was fired after she tried to break in the White House residence.
... On second thought, it's pretty obvious why Melania Trump might be tired of reality TV.