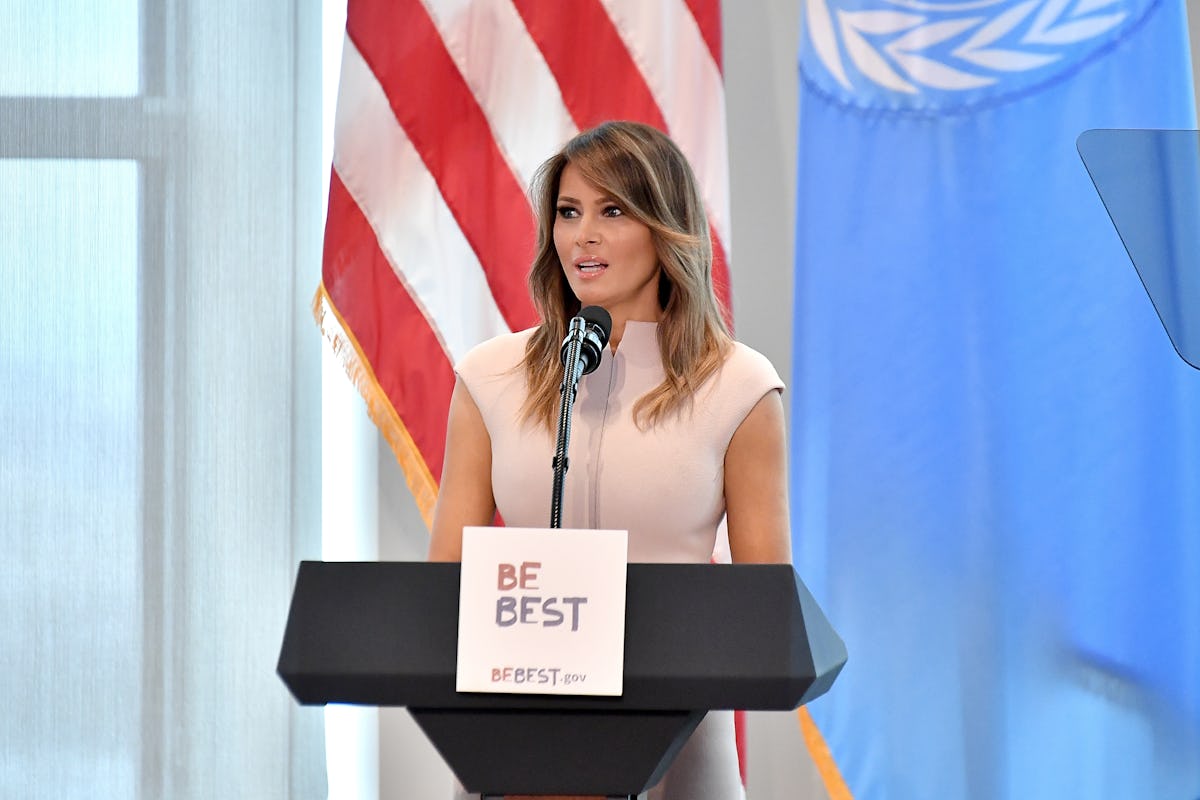 Melania Trump Said She's One Of The Most Bullied People In The World, Which, OK
Michael Loccisano/Getty Images News/Getty Images
Melania Trump might not be in the spotlight as much as her husband, President Donald Trump, but there's no denying that she's had her fair share of moments that have sparked some internet backlash. Because of her run-ins with the Twitterverse, Melania Trump said she's one of the most bullied people in the world. Well, OK then.
In an exclusive interview with ABC — part of a special called Being Melania — The First Lady set to air Friday, Oct. 12 — Trump called out the publilc criticism against her. "I could say I'm the most bullied person in the world," she said. When ABC News' Tom Llamas pressed her on that claim, the first lady added "One of them — if you really see what people are saying about me." She also said that her experience had helped lead to her "Be Best" initiative, which makes anti-bullying, particularly for children on social media, a main focus. Elite Daily reached out to representatives of the first lady at the White House for further comment, but did not immediately hear back.
Trump isn't necessarily wrong about being bullied. She's married to the president (a controversial one) and that puts her right in the thick of it — and she's often wedged herself in deeper. Everyone still remembers that time Trump wore an "I don't really care, do u?" jacket to visit a shelter for migrant children at the U.S.-Mexican border, and no one was happy. But saying that she's one of the most bullied people in the world? That might be a little extra.
It's kind of odd for Trump to say she thinks she's the most bullied person in the world when there are groups of people who feel bullied by the policies of her husband's administration — one could argue more aggressively than the first lady's ever been "bullied."
For example, at the start of his first year in office, President Trump rescinded protections for transgender students that give them the right to use the bathroom corresponding with their gender identity, according to The New York Times. A survey by the GLSEN, an organization dedicated to improving the education system for LGBTQ youth, found that 75 percent of transgender kids feel unsafe in school, with 70 percent avoiding bathrooms. The National Center for Transgender Equality pointed out that denying trans students the ability to use the bathroom of their choice can make things worse, as it singles out trans students and makes it harder for them to focus on their education. Even worse, according to the American Foundation for Suicide Prevention (AFSP), 41 percent of transgender people will attempt suicide in their lifetimes as a result of bullying. "The consequences of this decision will no doubt be heartbreaking," Chad Griffin, president of the Human Rights Campaign told The New York Times in response to the changed bathroom rule back in February 2017. TIME reported that transgender advocates believe that singling out transgender students could add to the misunderstanding and bullying they already face.
Trump might think she is the "most bullied person in the world," but she might want to look around a little more because there are kids (who she cares about) out there who might argue with that.