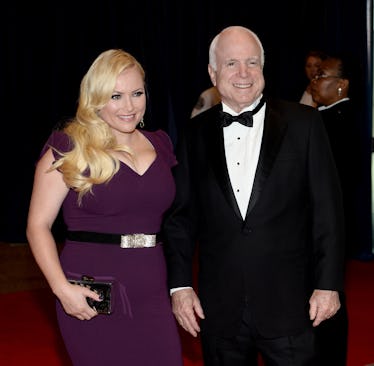 Meghan McCain Had A Perfectly Chilling Response To Her Father's Critics On Torture
Dimitrios Kambouris/Getty Images Entertainment/Getty Images
A single personnel change by President Donald Trump sparked a debate among Republicans about the United States' use of torture. The conversation has featured notable politicians like Senators John McCain (R-AZ) and Rand Paul (R-KY) scrutinizing Trump's pick to be the new CIA director, Gina Haspel, because of her alleged history with a facility that used extreme interrogation tactics, in a report that has since been retracted. On Thursday, March 15, Sen. McCain's daughter enter that conversation online, and Meghan McCain's tweet about torture went viral.
After GOP Congresswoman Liz Cheney (R-WY) critiqued a tweet in which Sen. McCain talked about torture, Meghan McCain replied to the House Republican with a simple message on Twitter: "My father doesn't need torture explained to him." Meghan's response was a chilling reference to her father's status as a prisoner of war for over five years during the Vietnam War. Sen. McCain refused to accept an early release because his captors would not release the other Americans with whom he was detained, which is a big reason why he is regarded as a military hero.
Sen. McCain's experience is also a big reason why he is a constant critic of the U.S. government's interrogation tactics. That makes it no surprise that he tweeted on Tuesday, March 13, "The torture of detainees in U.S. custody during the last decade was one of the darkest chapters in American history. The Senate must do its job in scrutinizing the record & involvement of Gina Haspel in this disgraceful program."
The senator sent the message to call for his fellow senators to press Haspel when she eventually sits before Congress for a confirmation hearing. On Tuesday, President Trump announced that he would be nominating Haspel to become the new CIA director, a domino effect nomination that came as a result of Trump choosing the current CIA director, former congressman Mike Pompeo, to become the new secretary of state.
Haspel's nomination prompted the criticism of both McCain and Paul, who is also known to scrutinize the tactics the government uses for national security. The main criticism? Haspel's history of running a "black site" prison in Thailand. Black site prisons are known as secret facilities that operate with little oversight and use interrogation techniques that critics like McCain and Rand deem unethical.
One notable report, which was later retracted, about Haspel's alleged history came in 2017, when ProPublica reported that Haspel was the head of the black site during the time at which it controversially interrogated a suspected terrorist with waterboarding. Sen. Paul referenced the report in a press conference on Wednesday. A day later, though, ProPublica retracted the story, with the news site saying that it learned Haspel had not, in fact, been in charge during the interrogation of the suspected terrorist.
Rep. Cheney, the daughter of former Vice President Dick Cheney, tweeted in response to Sen. McCain, "The Enhanced Interrogation Program saved lives, prevented attacks, & produced intel that led to Osama bin Laden. The techniques were the same as those used on our own people in the SERE program. No one should slander the brave men & women who carried out this crucial program."
The "SERE program" is a reference to the Survival, Evasion, Resistance, and Escape program that itself has been scrutinized as one that teaches torture techniques.
After Rep. Cheney's tweet came Meghan McCain's response.
The Twitter conversation between the McCains and Cheney is a preview of sorts the conversation that is sure to get more publicity as Haspel confirmation nears.
Even after ProPublica retracted its report about Haspel, Sen. Paul indicated that he will not vote to confirm Haspel as CIA director.
"Senator Rand Paul was quoting a Pulitzer-Prize winning reporter. Regardless of the retraction of one anecdote, the fact remains that Gina Haspel was instrumental in running a place where people were tortured. According to multiple published, undisputed accounts, she oversaw a black site and she further destroyed evidence of torture. This should preclude her from ever running the CIA," Doug Stafford, Paul's chief strategist, told Politico.
Some politicians quite simply argue against the government going to extremes to get information out of prisoners. One of those politicians is John McCain and, clearly, his daughter Meghan.