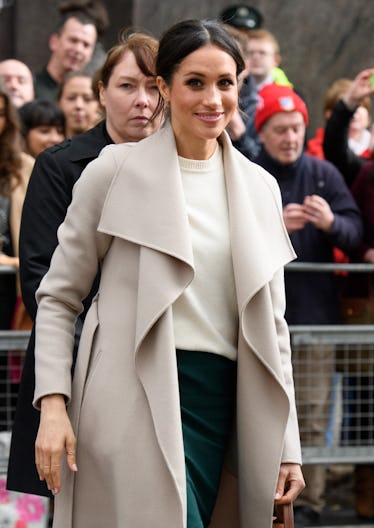 Meghan Markle Is Giving Her Father The Sweetest Wedding Gift & I'm Sobbing
Pool/Getty Images Entertainment/Getty Images
With less than two months away from her wedding to Prince Harry, Meghan Markle is getting all the small details ironed out. You know, things like a wedding dress, invitations, and a royal guest list — no biggie. But there's one thing that Markle is doing that's incredibly special: She's reportedly giving her dad a gift that follows royal tradition, and let me tell you, Meghan Markle's wedding gift for her father will make you want to sob because it's just too pure for words.
So, what is this honorable present that Markle is giving to her father? It's reportedly a family coat of arms, and BRB, I'm just going to go weep for while. According to People, "the traditional design, customized with colors and symbols, is typically given to the father of the bride just ahead of a royal wedding," and although the Kensington Palace and the College of Arms declined to comment on "whether or not a coat of arms will be gifted to Meghan's dad, Thomas Markle, in honor of the royal bride-to-be's May 19 wedding, it's a tradition that will likely be followed."
Back in 2011, Kate Middleton gifted her father a coat of arms nearly a week out from her wedding to Prince William, and the design might give a clue to what Markle's coat of arms might look like. According to People, Middleton's coat of arms "featured three acorns, which represented the family's three children — Kate, Pippa and James — and a gold stripe across the middle in honor of Kate's mother, Carole, whose maiden name is Goldsmith." Additionally, the acorns are a representation of the oak trees that grow near the Middleton's home in Berkshire.
Why does this give me so many emotions?
After Meghan gifts her family their coat of arms, she and Prince Harry will receive their own "conjugal coat of arms," but will most likely not get them until years after they marry. *Totally* worth the wait, in my opinion.
While we won't know what Markle's coat of arms will look like, Thomas Woodcock, Garter King of Arms at the College of Arms, told People back in 2011 that "every Coat of Arms has been designed to identify a person, school or organization, and is to last forever ... Heraldry is Europe's oldest, most visual and strictly regulated form of identity and it surrounds us in Britain, giving clues to our history and surroundings."
I'm calling it right now: This coat of arms is going to be regal AF, just like their wedding day will be.
And, while the big day may be high-class and even more highly publicized, Prince Harry and Meghan Markle's relationship is super low-key. I mean, do you remember the royal couple's first interview with BBC after their engagement?
Hint: It involves a quiet night and a roast chicken. Markle said,
Just a cozy night. What were we doing? We were trying to roast a chicken. It was just an amazing surprise. It was so sweet and natural and very romantic. He got down on one knee . . . As a matter of fact, I could barely let him finish proposing, like, 'Can I say yes now?!'
Honestly, it is amazing.
And royal expert Katie Nicholl, author of Harry: Life, Loss, and Love, told ET that Prince Harry is ready to start having kids with Meghan STAT.
"My sources are saying that Prince Harry, particularly, is very keen to start a family, pretty soon after the royal wedding," Nicholl said. "He's made no secret about wanting children."
So who knows? Maybe Meghan and Harry's coat of arms will symbolize more than just their marriage and will feature details for a royal baby, because let's face it, the only thing we're looking forward to more than a royal wedding are some royal kiddos.
Chop chop, you two!