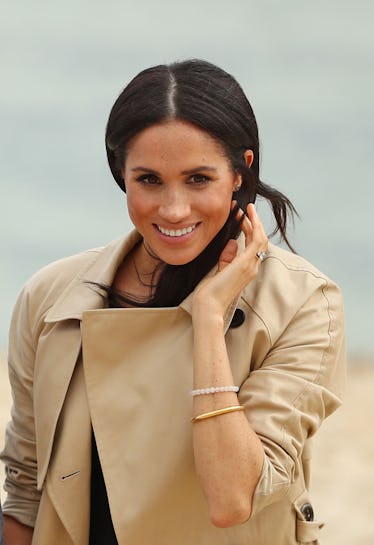 Meghan Markle's Shoes Are The Most Stylish Black Flats Ever — & They're Still Available
Scott Barbour/Getty Images Entertainment/Getty Images
It seems like the Duchess of Cambridge is in the news every other day for a great new outfit she's worn. And while she's no stranger to designer labels, she's also still a champion of brands that even us non-title holders can get in on. Today, Meghan Markle's shoes weren't just affordable but also incredibly practical, making them doubly covetable and proving their wearer is chill AF. If you've been looking to get in on royal style but aren't one for Markle's typical stilettos, this is your shot.
As you're undoubtedly aware, Markle and Prince Harry announced they were pregnant at the start of their Sydney tour earlier this week. Their first official outing in Australia and post-announcement was to Admiralty House, the official Sydney residence of the Governor-General of Australia, where they were meeting both Peter Cosgrove and Lady Cosgrove themselves along with representatives from each of the 18 countries participating in the Invictus Games. For the event, Markle wore a gorgeous white dress by Australian designer Karen Gee, which showed off her itty bitty (virtually nonexistent) baby bump. In typical fashion, she finished off the look with a pair of tan pointy toed Stuart Weitzman pumps. A chic choice, to be sure, but definitely not the most comfortable one.
But as Popsugar reports, for the couple's next appearance, which took place on a beach, Markle chose a decidedly more comfortable outfit, at least as far as shoes are concerned. She ditched the high stilettos for a pair of black ballet flats, which is smart because sand and heels simply do not mix. No, the flats weren't Jimmy Choo nor were they another outrageously expensive designer. Rather, they were by Rothy's, a sustainable shoe company based in San Francisco, and they cost her a very reasonable $145.
Before you even ask, yes, the black flats are still available. As described on Rothy's website, "Our modern pointed toe flat gives instant polish to any outfit. Wear this classic black with every outfit in your closet. The color is black with signature blue halo and black outsole. Fits true to size. There is no break-in period with our shoes." The last point of the description — that the shoes require no breaking in — clarifies why Markle is such a fan of them. That, and they're minimal yet sleek appearance. These are definitely shoes she'll be wearing until we meet the newest member of the royal family thanks to their comfort and ease.
If you're into the style of the shoe but not the color, Rothy's offers it in a ton of other hues and even a few prints. From violet and hot pink to Leopard and teal neon line stripe (yes, it's as crazy cool as it sounds), there'll be a color way out there that will get catch your eye. And thanks to its sustainable aspect, the brand is one that you can feel good about shopping.
It's not often that you can cop royal style at a normal price, so this is a shoe not to be missed out on. Snag a pair and pop them in your purse for the next time you plan on wearing heels out.