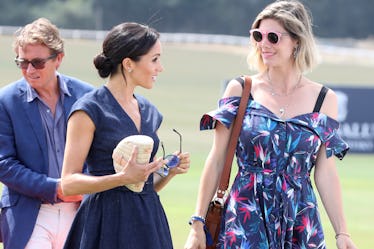 Meghan Markle Just Wore One Of Summer's Biggest Trends & It's Under $100
Chris Jackson/Getty Images Entertainment/Getty Images
I was 11 years old when I drank hater-ade for the first time. Mia Thermopolis went from a regular teenager to princess of Genovia in The Princess Diaries. That moment at the end when she's in her private jet, wearing that light blue two-piece, and she flies over her castle was exactly when it happened for me. At 28, it happened again when Meghan Markle became royalty overnight. If any long, lost royal family members are out there, call me! OK so I'm not royal, but that doesn't mean I can't dress like one: "Meghan Markle's purse is from J.Crew!" is something I never expected to squeal to myself when flipping through photos of the duchess, but to my surprise, it's true.
Markle and her new hubby attended a charity polo match looking like a super expensive Ralph Lauren ad IRL. She wore a denim dress — one that actually looked sophisticated AF — with nude pumps, and a straw clutch.
Since getting engaged to Prince Harry last November, Meghan Markle has reportedly raked in a million dollars worth of clothes, and it shows. Every time she steps out, she looks so expensive. Admittedly, I've tried recreating some of her looks on a budget (and pretty successfully, I might add), but nothing ever looks as good as the real thing. But what are you going to do? I can't afford anything in her closet, right? Wrong!
Contrary to what you might believe, that straw bag Meghan Markle is carrying doesn't cost more than my month's rent. In fact, the fan-shaped, light-colored rattan clutch with leather details is actually priced at less than $100 and it's from J.Crew. I love a girl who can seamlessly mix expensive items with affordable pieces.
The bad news is thanks to the "Meghan-Markle effect," the $70 bag already sold out! Of course it did, right?
But don't freak out, there's good news: Remember I said I was really good at finding affordable alternatives to really expensive outfits. I got you!
Here are three options for similarly shaped clutches in a summer-appropriate straw material:
This Filippo Catarzi Taco Contrast-Trim Clutch ($50; Bloomingdales) isn't exactly alike. It has a black trim around the zipper, but that's not necessarily a bad thing.
If you're looking for something that has both straw material and hints of brown leather, this $20 option is a major win. This Half Moon Straw Clutch Bag ($20; Poshmark) looks almost as good as Markle's.
Same shape, different color scheme, but would look just as cute with a denim dress. This Rebecca Minkoff Woven Straw Taco Clutch ($62; Nordstrom) is a perfect alternative to the popular royal-approved clutch worn by Markle.
And speaking of denim dresses, here's a more affordable option to pair with your new half-moon shaped straw clutch. This Anne Klein Women's Soft Denim Notch Collar Wrap Dress ($48; Amazon) is under $50 and looks so similar to the one worn by the duchess.
So we might not be dating anyone with royal blood or have a grandmother who moonlights as the queen of Genovia, but that doesn't mean we can't look like royals, and on a budget nonetheless. After all, money can't buy style.