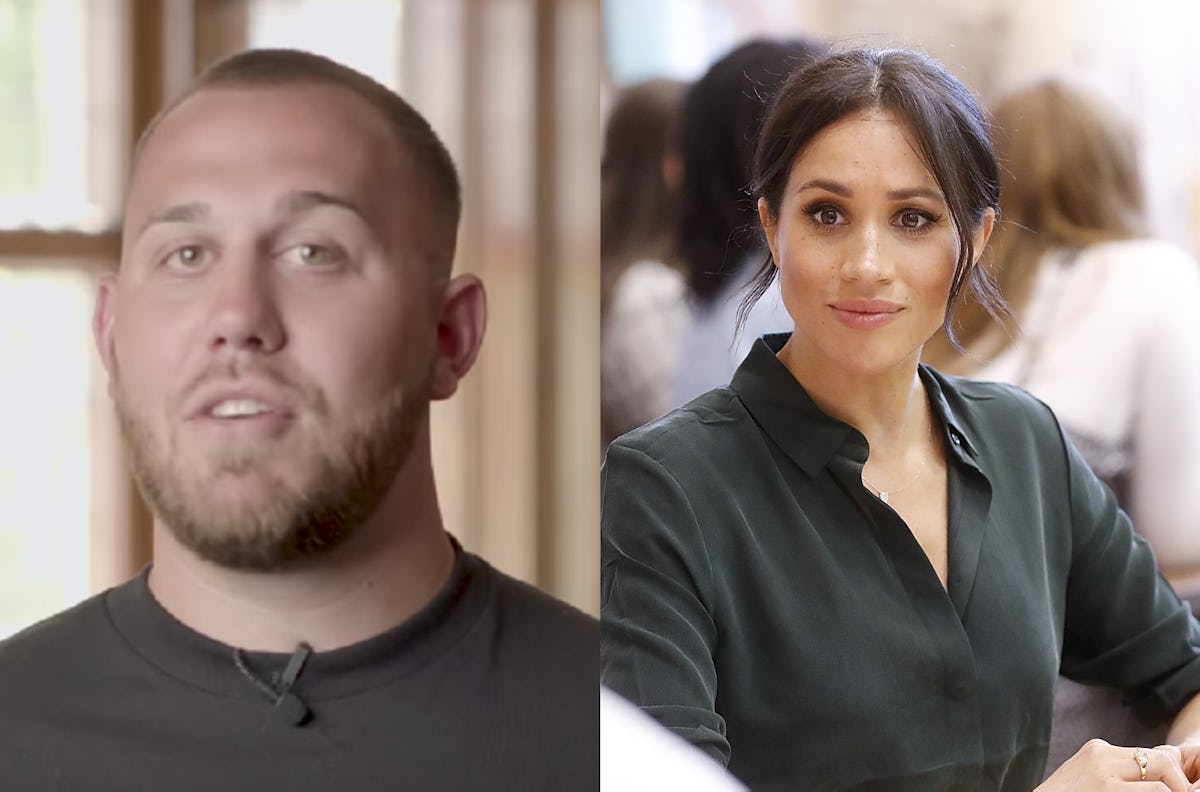 Meghan Markle's Nephew Was Cast On An MTV International Reality Show About English Royals
MTV & Chris Jackson/Getty Images Entertainment/Getty Images
While her half-sister Samantha Markle has been trying to deliver letters to Kensington Palace, another member of Meghan Markle, Duchess of Sussex's family is keeping busy with his own assimilation into the royal world — literally. Meghan's nephew Tyler Dooley didn't attend her wedding to Prince Harry, but he'll soon be rubbing elbows with the couple's fellow royals. Meghan Markle's nephew will be on MTV's The Royal World, and this show just shot to the very top of my to-watch list.
As Variety first reported in July, MTV International described its new series as a feature of the "exclusive, unfiltered lives of young royals and aristocrats." While the Royal World cast list includes plenty of posh-sounding names accompanied by formal aristocratic titles, 25-year-old Dooley is the only American to join the group of multicultural royals that have signed on for an elite, on-camera stint in the English countryside. The son of Meghan's half-brother Thomas Markle Jr., Dooley spent the week of Meghan and Harry's wedding in London with his mother Tracy Dooley despite not being invited. It looks like he soon flew back across the pond for more of the London life when The Royal World came calling.
Premiering on Nov. 7, MTV has released a Royal World teaser trailer and a video introducing the elephant in the, er, castle, aka Dooley. The network is clearly trying to stir up family drama by casting Meghan's nephew, but to be fair, Dooley's explanation for doing the show makes sense, as he tells the camera, "I think I represent more of the average person that could be watching this show."
Born and raised in Los Angeles, Dooley admitted in the video that while he was in London during his aunt's wedding, he didn't actually watch the ceremony. "Honestly, with the controversy that's happened in my family, all I wanted to do was just show my support," he says.
As Dooley's parents separated in 1992, his branch of the family didn't seem to expect invitations to Meghan and Harry's May wedding. In an interview with the New York Times, Dooley's mother clarified that she didn't want to abuse her connection to Meghan and said, "Her brother has said such horrible things about her that she couldn't have invited her nephews or me to the wedding."
The Dooleys run a hemp-based clothing and makeup business called Royally Grown and even offer a line of marijuana called Markle Sparkle, which Tyler claims was based on his own childhood nickname. The business name's nod to royalty is also reportedly a coincidence. I think it's safe to say that Dooley had no trouble finding icebreaker stories to share on the first night of Royal World filming.
While the Dooleys have always publicly emphasized their wish to be respectful of Meghan, Tyler isn't the first Markle to be linked to a TV show since his aunt became part of the British royal family. Samantha Markle was rumored to eventually join the cast of the U.K.'s Celebrity Big Brother this summer, but she ultimately never appeared on the show. Here's hoping that Dooley's reality TV run isn't as cringe-worthy as Samantha on Celebrity Big Brother could have been.
The Royal World premieres on MTV International on Wednesday, Nov. 7.