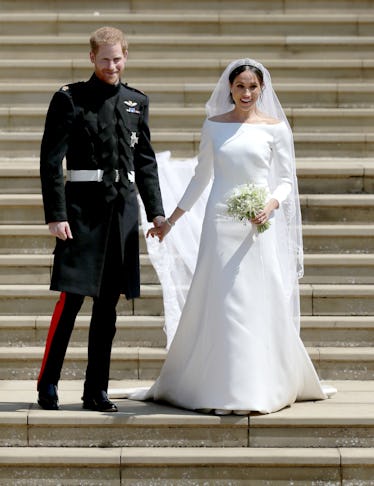 Meghan Markle & Prince Harry Just Did The Sweetest Thing With Their Wedding Gifts
WPA Pool/Getty Images Entertainment/Getty Images
It's no secret that when you get married, guests typically bring the newlyweds some type of wedding gift. Whether it's something off of their wedding registry or a simple card with a check enclosed, it's pretty much common courtesy to shower the new couple with a little something to help kickstart their marriage (or, ya know, help pay off their wedding debt). But you do know that the royal couple is no normal couple, right? And the royal wedding pretty much defied any concept of average — including the staggering amount of gifts they received. And now there are reports that Meghan Markle and Prince Harry returned their wedding gifts — a whopping $9 million worth of them — and the reason makes complete and total sense if you ask me.
According to The Sunday Express, the newlyweds have been receiving wedding gifts from businesses, celebs, and general well-wishers non-stop. The site reports that "Kensington Palace have received waves of gift boxes and parcels for the newlyweds from companies and celebrities" which will all be returned (sad face). The site reported that one company even sent the Duke and Duchess of Sussex matching swimwear in the hopes that they would wear them while on their honeymoon. Cute idea, but sadly, it looks like Meghan and Harry won't be looking adorably alike in their bathing suits anytime soon. I know what you're thinking: Why? FOR THE LOVE OF GOD, WHY?
It's not because royals don't appreciate presents (honestly, whoever doesn't is a monster), but it's basically because them's the rules, fam. The royal website states that there are official rules from Kensington Palace regarding gifts from companies:
The official rules from Kensington Palace on receiving freebies from businesses say: "When gifts are accepted, the consent of the Member of the Royal Family should be contingent upon the enterprise undertaking not to exploit the gift for commercial purposes."
If you're trying to see if there's some kind of loophole with receiving and keeping gifts from people, not businesses, that the royal couple doesn't know, sadly, nope. They have to return those gifts, too "in order to prevent them from being exploited," according to Cosmopolitan. So yeah, a double bummer. The site said the Kensington Palace's guidelines state:
Gifts offered by private individuals living in the UK not personally known to the Member of the Royal Family should be refused where there are concerns about the propriety or motives of the donor or the gift itself.
But as you know, Meghan Markle and Prince Harry requested that donations to charities could be made in lieu of any guest or well-wisher sending a gift, so it's not like the couple was likely to be accepting presents for their wedding day anyway. Per the royal website:
Prince Harry and Ms. Meghan Markle are incredibly grateful for the goodwill shown to them since the announcement of their engagement and are keen that as many people as possible benefit from this generosity of spirit. The couple have therefore asked that anyone who might wish to mark the occasion considers making a donation to charity, rather than sending a wedding gift.
They even chose seven charities that covered a range of different issues, like helping the homeless, supporting children affected by HIV, and efforts for national marine conservation. Basically, what I'm trying to tell you is that Harry and Meghan are two generous and pure human beings who are totally OK with not getting presents on their wedding day.
I mean, who needs gifts anyway when you're too focused on looking way too in love like this:
Me. I need gifts.
So I'll just throw it out there: If anyone — literally, anyone — feels like re-routing their returned royal wedding gift to me, let a girl know, because I certainly won't scoff at a new set of china.