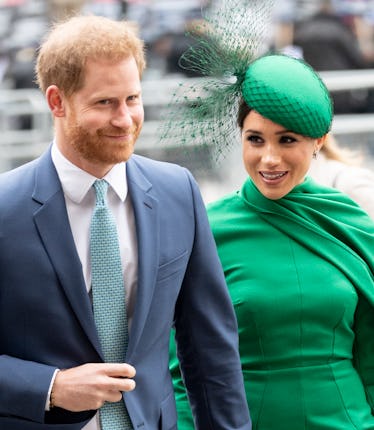 Meghan & Harry May Want To Attend The Queen's Jubilee, & Of Course There's Drama
Mark Cuthbert/UK Press/Getty Images
The royal drama just keeps on rolling in. After Prince Harry and Meghan Markle cut ties with the British monarchy on Feb. 19 as senior working royals, questions are lingering on what this means for their future. For example, will they be able to attend the Queen's Platinum Jubilee, a major family event that's just over than a year away? Meghan and Harry reportedly want to attend the Queen's Jubilee, but it seems there's a catch.
The forthcoming celebration is being held in honor of Queen Elizabeth's 70-year milestone as monarch. It will undoubtedly be a historic family event, but Harry's desire to be included is reportedly causing waves.
An insider tells The Sun, "Harry wants to be there. It is already causing a headache and is going to be very awkward." After distancing themselves from their royal duties, there are questions about the logistics behind them attending events. For example, "Where will they be positioned if they turn up?'" the insider said.
"Will we put them on the Buckingham Palace balcony for the flypast?" the source questioned. "This is a celebration for the Queen's 70 years of service to the nation and should not be overshadowed. There are now so many questions about what to do with Harry and Meghan."
On the day Harry and Meghan officially announced they will no longer working members of the royal family, a spokesman for the couple shared a statement about their decision.
The Duke and Duchess of Sussex "remain committed to their duty and service to the UK and around the world" and have "offered their continued support to the organizations they have represented regardless of official role," the spokesman said. "We can all live a life of service. Service is universal."
The Queen also confirmed the news, saying that the family is "saddened" by the couple's decision but they will "remain much loved members of the family."
Apparently love doesn't equate to automatic invites for future royal events. The Queen's Jubilee is set to be held in June 2022, so there's some time to iron things out, but only time will tell whether Harry and Meghan will snag an invite.