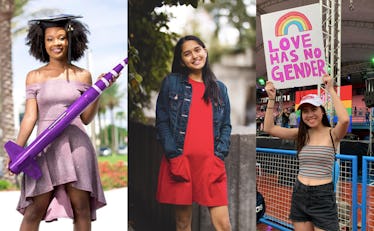 These Gen Z "STEMinists" Are Here To Close The STEM Gender Gap
Photos L-R: Lee Green / Dongmin Son / Courtesy Audrey Pe
It's 2020, and women have the same opportunities as men. Well, in some fields. Despite the increasing prominence of science, technology, engineering, and mathematics — collectively known as STEM fields — these industries have historically been male-dominated. But some young women are working to change that. These Gen Z STEM feminist leaders are leading the way for a new generation of "STEMinists," and they're literally changing the face of this important work.
While female representation in STEM has increased in recent years — from 2008 to 2016, the number of STEM degrees awarded to women increased by 48% — as of 2020, women's involvement in STEM still isn't comparable to that of men. In the 2015-2016 school year, the most recent year for which data is available, only about one-third of bachelor's degrees in STEM fields went to women, according to the National Center for Education Statistics (NCES). They're also underrepresented on the job: According to the National Science Board, as of 2017, the most recent year on record, women were more than half of the overall college-educated workforce, but only 29% of the science and engineering workforce. Research from organizations like the American Association of University Women (AAUW) suggests these disparities can be attributed to social and environmental barriers like gender bias, discrimination, and academic and workplace attitudes that discourage women from pursuing STEM jobs.
In addition to gender discrimination, there are also racial issues in STEM: Minority women tend to be underrepresented in STEM education and the workforce. In the 2017-2018 school year, women of color earned only a tiny portion of all STEM degrees, with Black women earning 2.6% of all degrees, Hispanic women 3.6%, and Asian women 3.9%, per NCES. As of 2015, more than 60% of women employed in science and engineering fields were white.
The lack of women (and, particularly, women of color) in STEM fields isn't just a problem for the women themselves, who are denied access to high-paying and often prestigious careers — it's a problem for everyone. Women can provide valuable insight that would otherwise be overlooked: For example, engineered safety devices built for men's bodies may not adequately protect female bodies, and artificial intelligence codes written only by men will likely have inherent gender biases that perpetuate sexist attitudes.
However, things are changing. Scientists, innovators, and researchers are realizing the importance of having a diverse STEM field, and young advocates are working to close the gender gap with educational initiatives and leadership. This Women's History Month, Elite Daily spoke to three STEMinists who are using service, education, and advocacy to promote women's achievement in STEM. They may be young, but these activists are working to end generational patterns of sexism and striving toward a more diverse and inclusive STEM field.
These interviews have been edited for length and clarity.