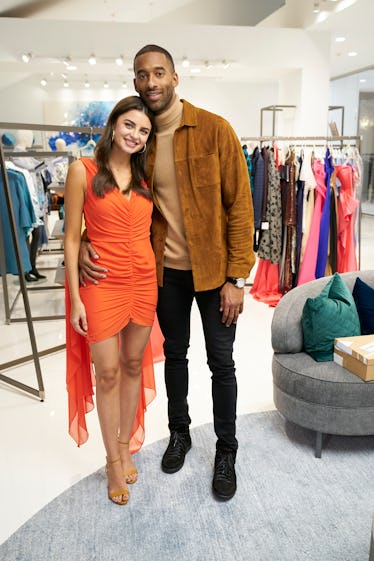 Matt Opened Up About Falling For Rachael & Her Social Media Controversy
ABC/Craig Sjodin
Remember when he dropped his first L-bomb on national television? Well, Matt James' quotes about Rachael Kirkconnell confirm the feelings viewers have seen him develop for her on-screen are not an act. "Having not been part of The Bachelorette before I was the Bachelor, I didn't know the rules and regulations of how to use that word," James told Us Weekly on Feb. 2. "And so, whenever I felt something, I said it. And I only said things that I meant and felt. So, if that got tossed around a few times, it's because I felt it. And if it doesn't, then that means that connection hadn't gotten to that point yet."
James also gushed over Kirkconnell during a Feb. 2 interview with Entertainment Tonight. "I think that first group date is when she really caught my eye," he shared. "When we had the bridezillas, and I saw a different side of her, you know, I saw the competitor." He continued, "This has been a steady progression... since the first week. It was a feeling I hadn't felt, and... this is nothing that [producers are] telling me to say or do, it's just, I felt it in the moment and I had never felt it before."
He explained their one-on-one date, which aired on the Feb. 1 episode of The Bachelor, was a turning point in their relationship. "I hadn't had that one-on-one time with Rachael — all of our time had been spent in that group-date setting — so having that one-on-one time just to confirm how I felt and how she was feeling was nice," he said. "I hadn't felt it before."
ICYMI, James and Kirkconnell professed their love for each other on their first one-on-one date. "I really am already completely falling in love with you and I want to walk out of here with you and I want to start my life with you and I hope that'll happen," the graphic designer told James. The Bachelor responded, "Can I share something with you? You're not crazy because I feel the same way." He said he loves (yes, loves!) "everything" about her.
James also addressed the allegations directed at Kirkconnell that arose after she was cast on The Bachelor. On Jan. 4, TikTok user Maddy Bierster alleged Kirkconnell bullied her in high school for liking Black guys. On Jan. 11, Bierster posted another TikTok featuring messages from other anonymous sources who claim to have been bullied by the reality TV contestant. Kirkconnell also liked racist posts on Instagram, including a photo featuring a Confederate flag. (Elite Daily reached out to Kirkconnell for comment on these allegations and reports, but did not hear back in time for publication.)
James seemed to give Kirkconnell the benefit of the doubt. "I have not spoken to anybody since the show ended, but I would say that you have to be really careful about what you are doing on social media," he said. "Rumors are dark and nasty and can ruin people's lives. So I would give people the benefit of the doubt, and hopefully she will have her time to speak on that."
He added, "There's a lot of stuff going around about the women that were involved in the show. I would just give them a chance to kind of have their piece, whether that is someone who was gone night one or someone who went home last night. Everyone has a story, and I would just be receptive to that."
In addition (it's been a busy week for the Bachelor!), James addressed the theory that Kirkconnell won his season based on the fact that fans caught James listening to her Spotify playlist. He denied his Spotify behavior has any significance. "I have listened to Kit's playlist, I have listened to Michelle's playlist," he told Entertainment Tonight, adding, "I think people are very eager to find any tea. Lucky for me, I had a very good group of women and I have taken a lot of what I have learned from them and applied it to my life. This shirt was inspired by Kit's fashion, a lot of things that I am doing going forward were taken from my time with these women."
I guess the only option is to watch the rest of his season to find out how this all pans out.