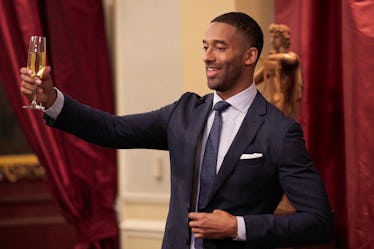 Fans Think This Spotify Clue Reveals Who Wins Matt's Season Of 'The Bachelor'
ABC/Craig Sjodin
Caution: Massive spoiler ahead. After some major sleuthing, fans believe Rachael Kirkconnell wins Matt James' season of The Bachelor. Why, you ask? Well, they have some evidence and, TBH, it's pretty convincing.
On Jan. 17, the Instagram account @bachsleuthers posted a screenshot that revealed James appeared to be listening to Kirkconnell's playlist "night drive" on Spotify. They posted the screenshot along with a picture of James and captioned it:
⚠️ potential spoiler ahead ⚠️⠀Did Spotify spoil the season? Swipe to the right to see and let us know: F1 or does Matt just like her taste in music? 👀
I also feel like it's important for me to note that I listened to the playlist and it definitely has an extremely sexy vibe to it. (Lots of Flume and Charli XCX. Kendrick Lamar and Troye Sivan are on there, too.)
Now, obviously, I don't know why James was listening to the playlist. Maybe producers of The Bachelor thought it would stir up some drama. Maybe he just likes Kirkconnell's taste in music. Maybe they're just friends.
But, if I'm being honest, I really don't think most people would just casually be listening to their ex's sexy Spotify playlist. This feels kind of relationship-y to me.
ICYMI: Kirkconnell is the contestant on James' season who teared up when he kicked off their first cocktail party with a prayer. She also received a rose during a group date that aired on Jan. 18.
According to her ABC profile, she's a major romantic:
With beautiful eyes and personality to match, Rachael is a southern sweetheart with a close-knit family. Though Rachael says she is a hopeless romantic to her core, she has never been in love and believes that Matt may just be the guy to change that. Rachael is hoping that her love story will be something huge and life altering. She wants to look back on her life when she's old and feel like she has made the absolute most out of every single day. Nothing makes her happier than a good movie, good wine and charcuterie boards. Rachael needs a man who will make every day with her something to tell their future children about and says, "At the end of the day, love is what makes your life more special than others. Life can be hard and really difficult and dark at times, but if you have someone by your side that loves you more than they love themselves, that makes it all worth it in the end."
Some other fun facts about her? Per ABC:
- Rachael's favorite way to pass the time is by doodling.
- Rachael is very neat with organization and cleanliness, and messy with plans and schedule.
- Rachael hates slow drivers!
So, I think it's safe to bet James was driving fast on that weekend Night Drive.