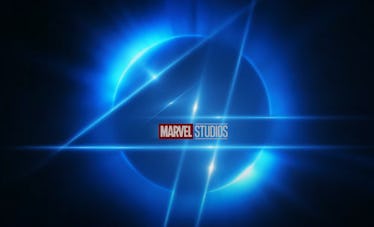 Marvel Just Low-Key Hinted A 'Fantastic Four' Movie Is Coming Soon
Marvel
After years of rumors, it looks like Marvel's first family may finally be joining the Marvel Cinematic Universe. On Monday, May 3, the superhero brand dropped a surprise video revealing tons of new details about its upcoming slate of films, and a subtle but important moment at the very end had fans screaming. Basically, Marvel's video announcing a Fantastic Four movie broke the internet right after it dropped, because comics fans have waited a long time for this.
Rumors of a Fantastic Four film within the MCU have been ongoing for years, growing to a fever pitch after Disney's acquisition of 20th Century Fox in 2019. Fox produced two Fantastic Four movies in 2005 and 2007 with Ioan Gruffud, Jessica Alba, Chris Evans, and Michael Chiklis as the stars, along with a 2015 film recasting the team with Miles Teller, Kate Mara, Michael B. Jordan, and Jamie Bell. Because Fox owned the characters, they were barred from appearing in Disney's Marvel movies, but that's no longer the case as of the 2019 merger. At the end of 2020, Disney announced Spider-Man director Jon Watts would helm an upcoming Fantastic Four movie bringing Mr. Fantastic, Invisible Woman, Human Torch, and The Thing into the MCU at long last.
Since the announcement, there's been a ton of speculation about when Marvel's first family will be introduced and who will play them. One viral rumor guessed John Krasinski would appear in WandaVision as Mr. Fantastic, but that didn't pan out. While details are still scarce, Marvel gave Fantastic Four fans something to cheer about at the end of a new compilation video. The unexpected vid teased Marvel's upcoming Phase Four rollout, providing the first look at The Eternals and revealing Black Panther's sequel will be titled Black Panther: Wakanda Forever. But for many fans, the biggest reveal came at the end, when the Fantastic Four logo popped up on screen.
Although the teaser didn't include any details about casting or a premiere date, the brief but notable appearance of the Fantastic Four logo spurred a ton of tweets about the team making its MCU debut in the near future.
There's still no release date for Marvel's Fantastic Four movie, but it looks like the film is being planned to end Phase Four. As of right now, the latest scheduled Phase Four release is Guardians of the Galaxy Vol. 3, which is slated for May 5, 2023. Most likely, Fantastic Four will hit theaters after that, either at the end of 2023 or the beginning of 2024.