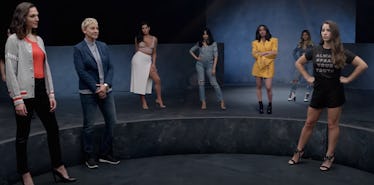 Millie Bobby Brown, Camila Cabello, & More Slay In Maroon 5's New "Girls Like You" Video
YouTube
Maroon 5 just dropped a new music video just in time for the weekend, and it takes a page (or... many pages) from Drake's book by featuring a huge cast of famous women. Maroon 5's "Girls Like You" video is star-studded as hell with appearances from Cardi B (who's featured in her own verse on the song), Camila Cabello, Gal Gadot, Ellen DeGeneres, Aly Raismain, Millie Bobby Brown, Tiffany Haddish, and more.
The video starts out with Adam Levine and the other Maroon 5 members standing on a circular gray stage. The camera pans around Levine for a while before going behind him to reveal a dancing and lip-syncing Camila Cabello. The video continues these celebrity reveals for the entirety of the video, and the list of women featured in it is stacked.
Here's all of the women in the Maroon 5 "Girls Like You" music video in order of appearance:
Camila Cabello
2 Dope Queen's Phoebe Robinson
Aly Raisman
Sarah Silverman
Gal Gadot
Lily Singh
Tech entrepreneur Amani Al-Khatahtbeh
Transparent's Trace Lysette
Tiffany Haddish
Activist Angy Rivera
Activist/author Franchesca Ramsey
Millie Bobby Brown
Ellen DeGeneres
Cardi B
Jennifer Lopez
Chloe Kim
Alex Morgan
Mary J. Blige
Lady Bird actress Beanie Feldstein
Jackie Fielder of Mazaska Talks
Danica Patrick
Ilhan Omar
Elizabeth Banks
Ashley Graham
Rita Ora
When Levine finishes singing, he turns around and his wife, model Behati Prinsloo, is seen holding their oldest daughter, Dusty Rose. Their 4-month-old daughter, Gio Grace, is not in the video.
Maroon 5's "Girls Like You" remix lyrics are about a relationship, not women as a whole like the video implies, but the cameos from all the women still work.
The song starts off with Levine singing,
Spent 24 hours, I need more hours with you / You spent the weekend getting even, ooh ooh / We spent the late nights making things right, between us / But now it's all good baby / Roll that Backwood baby / And play me close
The chorus goes,
'Cause girls like you run around with guys like me 'til sundown, when I come through / I need a girl like you, yeah yeah
The song originally came out on Maroon 5's Red Pill Blues album that dropped on Nov. 3, 2017. The new remix features a verse from Cardi B.
Cardi B's verse on the "Girls Like You" remix goes,
Not too long ago I was dancing for dollars / No, it's really rude if I let you meet my mama / You don't want a girl like me I'm too crazy / For every other girl you meet it's fugazy
I'm sure them other girls were nice enough / But you need someone to spice it up / So who you gonna call? Cardi, Cardi / Come and rev it up like a Harley, Harley
Why is the best fruit always forbidden? / I'm coming to you now doin' 20 over the limit / The red light, red light stop, stop (skrrt) / I don't play when it comes to my heart (let's get it though) / I don't really want a white horse and a carriage / I'm thinkin' more of a white Porsches and karats / I need you right here 'cause every time you call I play with this kitty like you play with your guitar
The video is similar to Drake's "Nice For What" music video, which also features cameos from a star-studded cast of famous women.
Tracee Ellis Ross, Yara Shahidi, Olivia Wilde, Emma Roberts, Issa Rae, Tiffany Haddish, Letitia Wright, Rashida Jones, and more all appear in the "Nice For What" music video. So between "Nice For What" and "Girls Like You," we pretty much have a makeshift all-women celebrity yearbook.