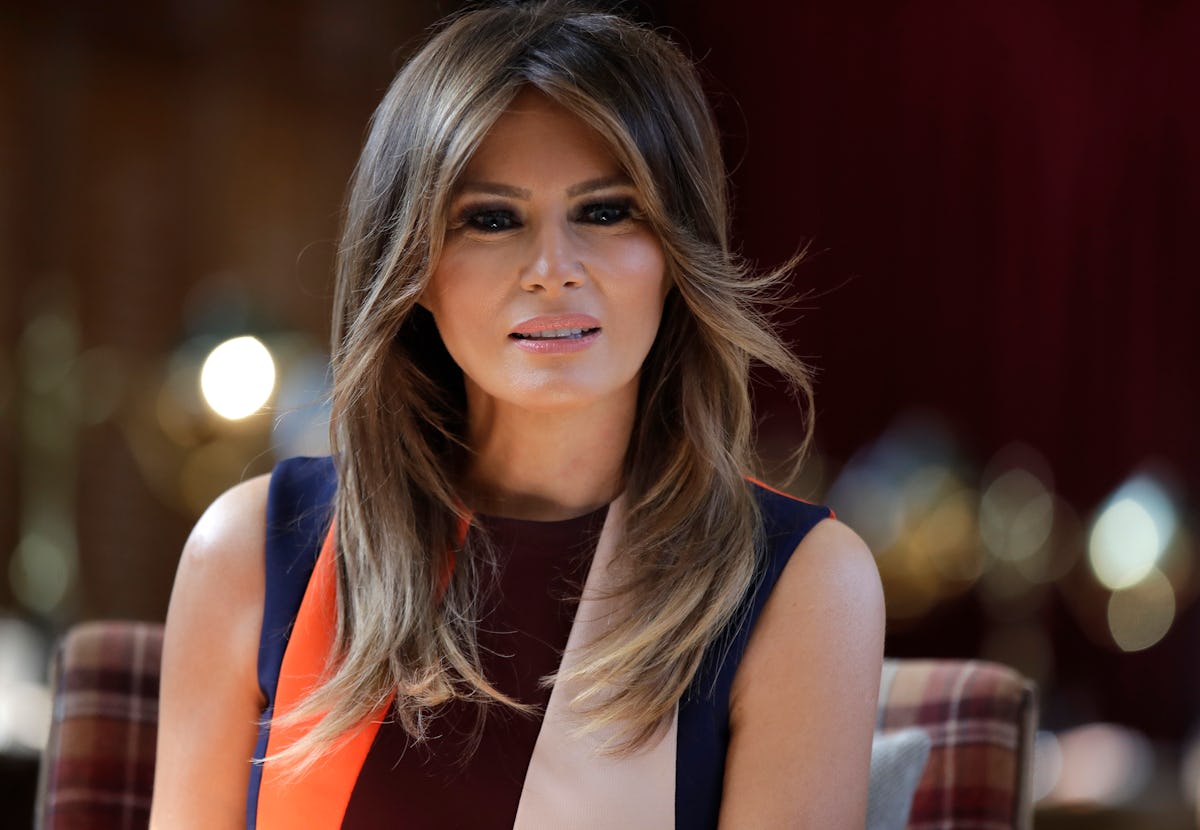 This Politician Called Melania Trump A Sexist Slur & It's Seriously So Not OK
WPA Pool/Getty Images News/Getty Images
It's no secret that the Trump family are not strangers to criticism, but this latest attack definitely crosses the line. On July 30, a politician took to Twitter to share some extremely inappropriate thoughts about the first lady, and Mark Roberts' comments about Melania Trump need to be shut down right now. Let's get one thing straight: It's never OK to attack a woman with sexual slurs, no matter what your political preferences are.
Day by day, it looks like Twitter is being used by politicians to bully one another across the web. On July 30, Mark Roberts, who is running for the House of Representatives in Oregon's 2nd district, referred to Melania Trump as a "hoebag" and claimed that she "works by the hour" in a (completely unacceptable) tweet.
"Did you know the First Lady works by the hour? #thinkdirty #hoebag," Roberts wrote in a tweet. Roberts was responding to a tweet from conservative Charlie Kirk comparing the staffs of Trump and former first lady Michelle Obama, in which Kirk noted how small Trump's staff is.
Roberts' comments drew immense backlash from the public. Fellow Twitter users criticized the sexist slur towards Trump, to which Roberts ultimately decided to double down and insult the first lady even further.
"You start whipping out $100's and see how #classy she gets #makeitrain!" Roberts wrote in a second tweet. Elite Daily reached out to Mark Roberts for further comment about the sexist comments towards the first lady, but did not hear back by the time of publication.
The politician's comments eventually caught the attention of prominent news outlets, and Fox News host Laura Ingraham asked Twitter founder Jack Dorsey to remove Roberts' tweets and suspend his account. As of 3 p.m. ET on Aug. 2, Roberts' account is still active and the tweets are still posted.
Roberts, who is running as an independent conservative, has openly discussed his dislike for Donald Trump on his campaign website — but in what world does that mean the first lady should be the victim of uncalled for, sexist slurs? It's OK to dislike the Trump family based on their politics, but attempting to shame or belittle a woman for her appearance or on sexual grounds is a cowardly and, frankly, pathetic move.
Clearly, I'm not the only one who wasn't a fan of Roberts' commentary, because Twitter was quick to defend the first lady following the comments.
I never thought I'd see the day where so many people on Twitter defended Melania Trump, but this situation definitely calls for it. For far too long, sexual slurs have been the low-hanging fruit when it comes to attacking or criticizing a woman, and it should never be tolerated. But thankfully, it's refreshing to see Twitter call it out for the unacceptable slur that it is.
Sadly, these kinds of comments aren't an uncommon occurrence, and ironically enough, Melania Trump's very own husband has been guilty of doing it a time or two... or several. Just take Donald Trump's 1991 interview with Esquire as an example, where he discussed keeping his cool in the face of media. Well, apparently Donald Trump has some interesting thoughts on that topic. "You know, it doesn't really matter what [the media] write as long as you've got a young and beautiful piece of ass," Trump told Esquire.
And that's not getting into all Donald Trump's sexist and misogynistic comments about women in general, in which he's called them "pigs" and "slobs."
There's no denying that Trump has kept a relatively low profile during her time as first lady, and honestly I don't blame her, particularly when this is the kind of stuff being thrown at her in the public discourse. Whenever she does appear for a photo opportunity, she usually looks pretty uncomfortable.
For example, on July 15, Melania Trump met Russian President Vladimir Putin during the historic Helsinki summit. At first, Trump and Putin exchanged a cordial handshake and warm smile, but as soon as she, Putin, and Donald Trump turned to pose for a photo, her face immediately transformed. I don't know about y'all, but her expression seriously concerned me.
Melania Trump may have faced sexist slurs this time around, but it's nice to see that Twitter will even step up and fight for what's right. Just try it again and see what happens, boys.