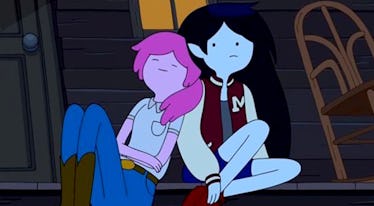 The 'Adventure Time' Series Finale Included The Same-Sex Kiss Fans Have Been Waiting For
Cartoon Network
Throughout its eight years on the air, Adventure Time maintained a balance between goofy antics and thrilling, inventive drama that made the cartoon beloved by young children as well as an older audience. And the show's series finale on Monday night was the perfect encapsulation of how much its characters and themes have evolved in Adventure Time's nearly 300 episodes. Most notably, viewers finally saw Marceline and Princess Bubblegum kiss in the Adventure Time finale, confirming the relationship that fans had suspected for a while now.
Although the vampire Marceline and Candy Kingdom leader Princess Bubblegum were initially hostile to one another, Adventure Time began to develop a friendship between the characters as the seasons went on, which spurred several fans of the show to question whether the two have romantic feelings for one another. This possible relationship remained fandom speculation up until the final moments of the Adventure Time series finale. In the group's climactic fight against a chaos god named GOLB, Marceline thinks that Princess Bubblegum has been seriously injured or possibly killed in battle, and she goes berserk to try to take down the monster responsible. When Marceline sees that Bubblegum is actually okay, she flies over and the two kiss.
That kiss is a massive moment for all Adventure Time fans, but showrunner Adam Muto told TV Line that the Marceline and Princess Bubblegum kiss was not in the outline at first. Apparently, the finale script called for Marceline and Bubblegum to "have a moment," and it was thanks to storyboard editor Hanna K. Nyströmthe that the ambiguous phrase was interpreted as a kiss.
In a montage during the final moments of the series finale, fans saw Princess Bubblegum and Marceline's relationship fill out even more, as the two women snuggled up with one another on a couch. Adam Muto said that the fan-favorite relationship was definitely not something that the Adventure Time had conceived of when first making the show back in 2010, but confirming the relationship in this finale felt like the culmination of a natural progression between the characters.
Along with confirming a fan-favorite relationship, the kiss was also a pretty incredible moment for LGBT+ representation in children's media. It should come as not surprise that showrunner Adam Muto credited former Adventure Time artist Rebecca Sugar with building and nurturing the connection between Marceline and Princess Bubblegum throughout the years — Sugar branched off from Adventure Time to create her own animated series Steven Universe a few years back, which has won numerous accolades for its progressive LGBT+ representation. Just a couple months back, Steven Universe featured the first same-sex wedding proposal in mainstream children's media, and went on to feature the wedding in a following episode.
Despite confirming the romantic relationship between Princess Bubblegum and Marceline, showrunner Adam Muto added that there are still aspects to the future of that relationship that fans do not know about. Since the Adventure Time story will continue in comic-book form, there is still a lot to explore about where these two and everyone else are headed after that big series finale.