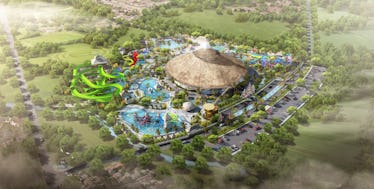 A Cartoon Network Amusement Park Is In The Works & It'll Make You Nostalgic AF
Turner
It's been a busy year for theme park openings, and my inner child has never been happier. With Pixar set to debut Toy Story Land at Walt Disney World in just a few weeks, it's the perfect time to start gearing up to enjoy the theme park experience alongside other beloved cartoon personas like Blossom, Bubbles, and Buttercup. Set your flight alerts now, because you aren't going to want to waste any time when your childhood favorites from the Powerpuff Girls, Adventure Time, Ben 10, and We Bare Bears head to the tropical destination of your dreams. A Cartoon Network entertainment park is opening in Bali in just a few years, and the huge 10-acre water resort is going to make you so nostalgic.
Cartoon Network fans can expect the channel's very first theme park with both indoor and outdoor locations to open in 2020, per a press release from parent company, Turner. Partnering up with Indonesia-based hospitality company, the MAJ Group, Turner Asia Pacific is set to launch the island's biggest water park to date — and it literally looks so cool. While only a rendering of the park's layout is available so far, it appears like there's plenty of fun for everyone with a dreamy selection of surf and wave pools, as well as water rides to splash around in, according to the statement.
In addition, the park will reportedly boast an indoor entertainment center filled with live shows and rides inspired by your favorite Cartoon Network series, so there's plenty to do on land as well.
Ricky Ow, the President of Turner Asia Pacific, said that he hopes that the move will make Bali — already a go-to spot for the honeymoon crowd with its stunning beaches and rich culture — a big family destination in Asia.
"Turner and The MAJ Group share the same vision of creating the ultimate family destination in Indonesia, and the entertainment park will combine world-class design with unparalleled Balinese hospitality," he said in the release. "Above all, it will offer guests genuine fun powered by Cartoon Network, Asia's leading kids entertainment brand."
Cartoon Network has been hard at work making their mark around the continent in the past couple months. In January, Cartoon Network announced via a press release that a fully themed cruise ship, christened Cartoon Network Wave, will be making its maiden voyage later this year. It'll travel from Singapore to 13 destinations around Asia, such as Thailand, China, Taiwan, South Korean, and Japan. While the complete schedule of stops hasn't been released yet, I'm definitely guessing that Bali will be on that list in a few years.
This is also not the first time that Turner Asia Pacific has tried its hand at opening up a theme park, either. According to the release, Cartoon Network previously launched the Amazone and Amaazia water parks in Thailand and India, while Dubai's IMG Worlds of Adventures was their first foray into an indoor theme park. I can't wait to see how they combine the two elements in their upcoming Cartoon Network all-inclusive theme park.
While 2020 is a long time to wait (sigh), there's a lot of cartoon happenings just around the corner if you need to get your childhood fix before then. If you are planning a trip to Asia this year, you'll definitely want to book a flight on the Toy Story plane, which flies to Shanghai from Beijing, courtesy of China Eastern Airlines. Inside, you'll find Toy Story-themed headphones, cutlery, food, and drink, as well as character-inspired decor to accompany you on your trip to infinity and beyond (aka Shanghai Disneyland's newly opened Toy Story Land). My point is, there's never been a better time to start drafting the perfect "OOO" email for that trip down memory lane.