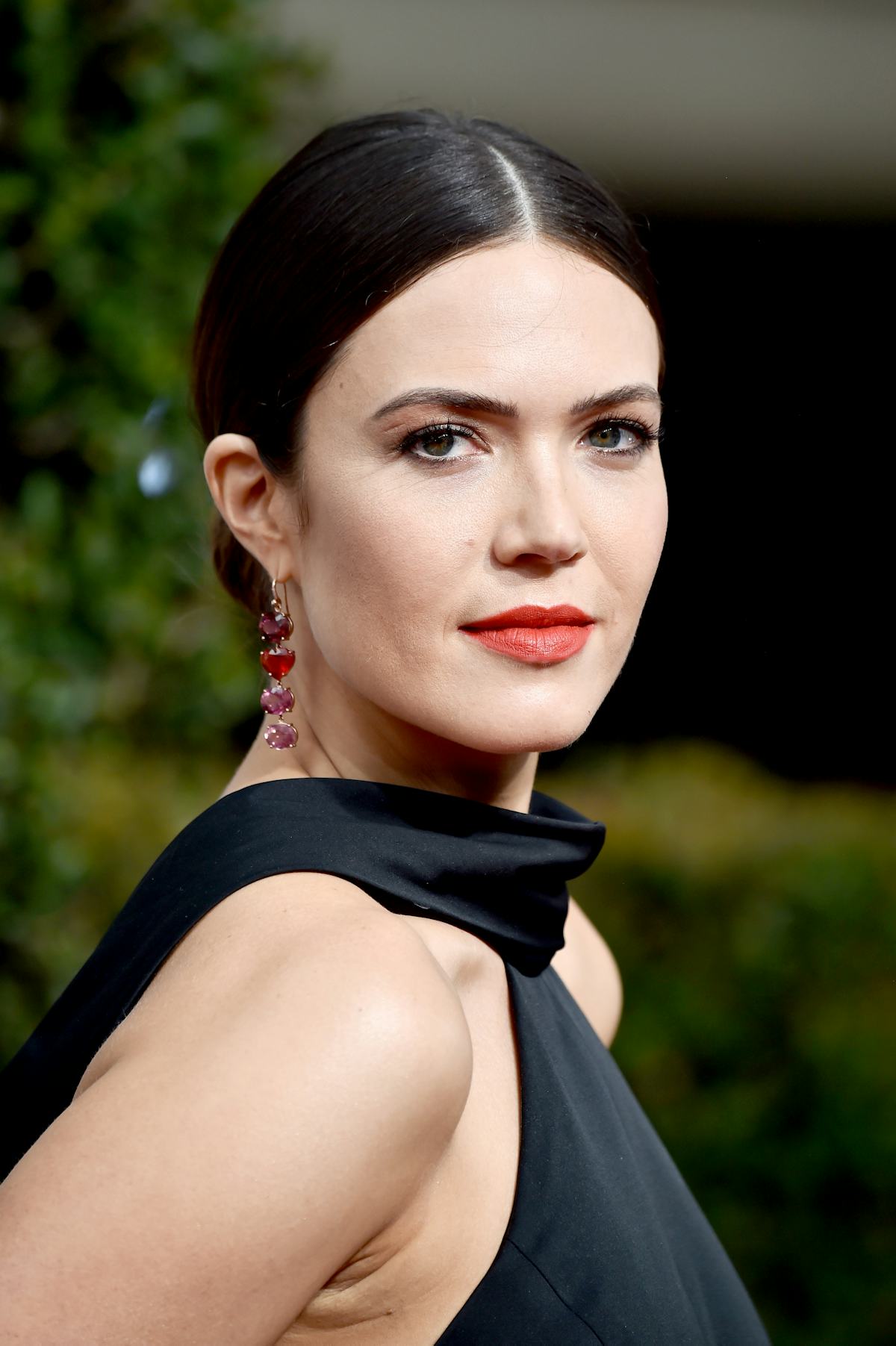 Mandy Moore's Golden Globes Dress Has A Superhero Accessory & I Bow Down
Frazer Harrison/Getty Images Entertainment/Getty Images
If you absolutely crush your look for a prestigious award show one year, how do you even follow it up the next? Mandy Moore's 2018 Golden Globes dress somehow managed to stand up to — even outshine — the gorgeous dress she wore last year to the 2017 Golden Globes, proving once and for all that she is a red carpet vet. After 19 years of being in the spotlight, should we expect anything less?
I remember when Moore came out with her first hit single, "Candy," in 1999 and truly cemented herself as a pop culture fixture. Back then, her looks largely consisted of crop tops, denim, and low-rise jeans. And feathered hair, which is one aughts trend that I most certainly am not missing like candy. She was all the rage and my friends and I were completely obsessed with her.
From there, her career took off. From The Princess Diaries to A Walk to Remember to Entourage and beyond ("beyond" includes Saved!, Grey's Anatomy, Because I Said So, and so much more), Moore became an on-screen darling, all while continuing to push out albums through 2009. Despite the many, many projects she's been involved with over the years, last year was the first time she ever received a prestigious award nomination.
She was in contention to receive the Golden Globe for Best Supporting Actress in a Series, Limited Series, or Motion Picture Made for Television category for her role as Rebecca Pearson on NBC's drama television series This is Us. In an interview with Entertainment Weekly, Moore revealed that she was shocked upon hearing of her nomination:
My jaw was definitely on the ground and I just started shaking. I've never been nominated for anything in my life. I feel like I'm on another planet right now.
She went head-to-head against one of her co-stars, Chrissy Metz, as well as Thandie Newton (Westworld), Olivia Colman (The Night Manager), and Lena Headey (Game of Thrones), and although she didn't win the Globe, she certainly won the red carpet. (FYI, Olivia Colman won.)
She wore a gorgeous black gown by Naeem Khan that featured a dramatically low V neckline, subtle back cutout, and wispy cape that flowed behind her regally as she walked. It was a dramatic statement that fit her monumental evening perfectly, and proved that she knows how to nail glam.
So this year, Moore's look had big shoes to fill. And fill them, it does.
Firstly, Moore's dress is black, which proves the actress is standing in solidarity with the powerful anti-harassment movement being sartorially vocalized through a monochromatic dress code at the Globes this year. Automatically, that scores it some major points. While black can often feel redundant and boring, Moore's look is anything but. It features a thick red sash at the waist that gives it a pop of color and some much-needed structural definition, as well as a full skirt that elongates into a small train. Its mock turtleneck somehow beautifully wraps around her neck before tuning into a cape that cascades down the back of the dress. (There is no way to eloquently describe the last design asset, you're better to just peep it above!) It's elegant yet bold and has a silhouette unlike any I've seen before.
Garnier Consulting Celebrity Hairstylist Ashley Streicher gathered her hair into an elegant bun at the nape of her neck, allowing her cape to steal the spotlight. Jewelry-wise, Moore is sporting ombré drop earrings featuring varying shades of red crystals, as well as a bracelet to match. The jewelry is delicate, understated and perfectly ties in the actress's orangey-red lips.
Overall, Moore's look is a far cry from those she used to rock on the red carpet in the 2000s. Going from teen dream to glamour queen looks dang good on her.