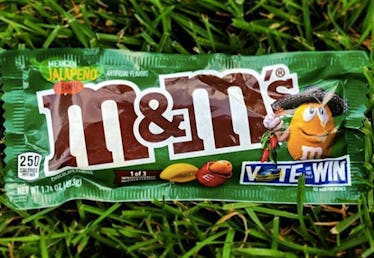 Jalapeño M&M's Might Be Coming This Year Alongside 2 More Shocking Flavors
Have y'all been paying attention to the new M&M's flavors that've been hitting the shelves lately? If not, you definitely should be. Between delicious seasonal selections and chocolatey classics, the options are nearly endless. However, three new flavors are reportedly hitting shelves soon, and they're unlike any M&M's flavors you've tasted before. Whether you like sweet treats or spicy candies, you're probably going to be happy with them. Once you learn more about M&M's reported international flavors for 2019, you'll now exactly what I mean.
According to Instagram user Brent Timm of SnackChatLive, three new M&M's flavors will reportedly become available in 2019. Based off a post on his Instagram page, the flavors apparently include English Toffee Peanut, Mexican Jalapeño Peanut, and Thai Coconut Peanut. Elite Daily reached out to Mars Wrigley Confectionery to confirm whether or not these M&M flavors will definitely become available in 2019, and the company did not have further information to share about the products.
A girl can dream, though... right? These flavors are making my mouth water (the Mexican Jalapeño Peanut, specifically). I hope I can get my hands on a bag sooner rather than later, but I guess I'll have to wait for an official flavor release before I can buy a bag. *Sigh.*
Out of the new flavors that are reportedly coming, the English Toffee Peanut is Timm's favorite. The snack vlogger tells Elite Daily that "they have a really bold toffee taste, almost like a mix of caramel and coffee." As someone who loves coffee and chocolate, I'm definitely going to try them when (and if) they are released.
My bets are still on the Mexican Jalapeño Peanut, though. I can't pass up a sweet and spicy snack.
Even though M&M's hasn't revealed any official information about the reported flavors yet, it would make total sense if it did end up releasing them. Why? Because the company pulled a similar stunt in March 2018 with its Flavor Vote campaign. The Flavor Vote campaign introduced three new M&M flavors including Crunchy Raspberry, Crunchy Espresso, and Crunchy Mint. Customers had roughly three months to try the limited-edition selections and vote for their favorite one, and the winner would be added to the M&M's lineup for 18 months. (In case you're wondering, Crunchy Mint won.)
If you look closely at the M&M's packages in Timm's Instagram photos, you can see a "Vote" banner in the bottom righthand corner of the bags. This might be a coincidence, but it seems to me like these flavors might be the new Flavor Vote contestants.
Apparently, the Instagram user CandyHunting agrees. The account posted a photo of the Mexican Jalapeño Peanuts bag on Instagram, and wrote, "SAY WHAT?! The next M&M's vote is for "Internationally Inspired Flavors." If that winds up being the case, I'm going to have to try these babies ASAP.
Still, there hasn't yet been any confirmation that M&M's will release these products in 2019. In the meantime, you'll just have to drool over Instagram photos of the reported flavors and hope they hit the shelves soon.