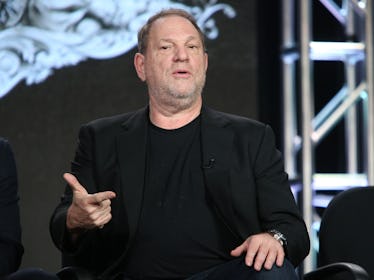 Harvey Weinstein Still Owes Malia Obama Money From Her Internship, Apparently
Frederick M. Brown/Getty Images Entertainment/Getty Images
More bad news for Harvey Weinstein and his company Weinstein Co. On Monday March 19, it was announced that the Weinstein Company would be filing for bankruptcy — but they still owe some very important people some money. According to a recent report, the Weinstein Company owes Malia Obama money from when she interned for the company in 2017. What, did they pay the president's daughter in IOUs?
The Weinstein Co. filed for bankruptcy on March 19, and amidst documents detailing the filing was a 349-page list of everyone the company still owes money to, according to USA Today. In those pages were lots of famous names, including the former first daughter. Other famous named mentioned were celebs like Jennifer Lawrence, David Bowie, Robert De Niro, Michael Bay... should I go on? I'll go on... Seth Rogan, Heidi Klum, Daniel Radcliffe, Ryan Coogler, Quentin Tarantino, and Kevin Smith.
The list, however, does not specify exactly how much dough the Weinstein company owes these celebrities. USA Today reports that the according to the companies bankruptcy filings, they owe between $500,000,0001 and $1 billion.
During her "gap year" before attending Harvard University, Obama interned for Weinstein Co. in their New York office, according to The Hollywood Reporter. She performed some pretty entry-level work reading scripts, but that didn't stop Weinstein Co. from using the "Obama factor" to auction off a three-month internship for charity.
"Here's a special chance to learn all the ins and outs of the movie biz, and maybe even run into Malia Obama while you're at it," an email sent to The Hollywood Reporter read.
The Weinstein gig followed her other buzz-worthy internship with Lena Dunham on the set of HBO's Girls in 2015.
After the reports of Weinstein's alleged misconduct emerged, Barack and Michelle Obama released a joint statement denouncing the reported behavior, per USA Today. "Any man who demeans and degrades women in such fashion needs to be condemned and held accountable, regardless of wealth or status," it said.
But this bankruptcy filing causes a lot more damage than some celebrities not getting paid.
Listen, I am sure these A-listers won't miss the bucks that Weinstein Co. owes them. They'll still have all the rest of their money to keep them warm at night. They deserve to be paid, because they worked, and you should get paid for that. But the people who might really lose out here could be Weinstein's alleged victims.
Since October 2017, more than 50 women have come forward with sexual misconduct claims against Weinstein, ranging from harassment to assault to full-on rape, and they could end up with nothing. (In a statement to Elite Daily, a representative of Weinstein said he denied the allegations: "Any allegations of non-consensual sex are unequivocally denied by Mr. Weinstein. Mr. Weinstein has further confirmed that there were never any acts of retaliation against any women for refusing his advances." The statement added that when it came to women who spoke on the record, Weinstein believed that all the relationships were consensual.)
According to Variety, the company's declared debts do not include claims from Weinstein's sexual misconduct allegations. Weinstein's harassment victims would be grouped with "unsecured creditors" which also include vendors, law firms, studios, and that long list of celebrities that the company still owes money to. At least six of the women who have accused Weinstein of misconduct have filed a lawsuit against Weinstein himself and the Weinstein Co. seeking class-action status on behalf of "hundreds" of alleged victims.
The firm working on the class action suit against Weinstein Co. will take an active role to ensure that there are assets left for their clients, according to Variety.
A lawyer for the Weinstein Co. said that the bankruptcy filing had nothing to do with the sexual harassment suits.
In bankruptcy court on March 20, the company's attorney Paul Zumbro made sure to emphasize that declaring bankruptcy had nothing to do with avoiding the sexual harassment claims, according to Variety. He pointed out that Weinstein's accusers could still pursue a claim against the man himself. He said,
We are not here to protect Harvey Weinstein or to deprive anyone of a claim against Harvey Weinstein. The Weinstein Co. has filed for bankruptcy relief, but that in no way affects anyone's ability to pursue civil or criminal claims against Harvey Weinstein in his individual capacity.
As it stands now, if the Weinstein company is bought out, the buyer could decide to set up a fund for the victims. They don't have a legal obligation to do so, but it would be a nice thing to do. Also, with all of the bad press that Hollywood has gotten as of late, they could be a knight in shining armor and gain some favor.
The Weinstein Co. had their hand in nearly every aspect of the entertainment industry, and them declaring bankruptcy will leave a lot of those entertainment folks with missing checks. But when it comes to the women who came forward against Weinstein, money can't fix what happened. But it would probably be nice to get it.