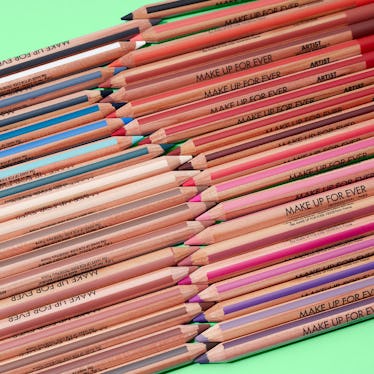 Make Up For Ever Teamed Up With An LGBTQ+ Non-Profit For A New Launch Just In Time For Pride
Courtesy of Make Up For Ever
It feels like I only blinked twice before we were nearing the end of May and heading full-force into the summer months. But with the onslaught of sweat and sun comes my favorite month of the year: June, more importantly known as PRIDE MONTH. As you prepare for your summer fun in the sun during as many Pride Parades as you can possibly handle, one new launch will have you seeing color all summer long. Make Up For Ever's new Artist Color Pencil line features colors spanning the whole spectrum. Seriously, once you get your hands on this launch, you're gonna be a rainbow dream.
Though I spend pretty much all year round yelling about how gay I am and about how much I love my girlfriend, I go even harder during Pride Month. I envelop myself in rainbows, I had flock to my other queer friends, and I spend the whole month planning what my beauty ~lewk~ will be for Pride. No matter what it is, I just need it to be fresh, fierce, and to showcase as much color as humanly possible. Enter: Make Up For Ever Artist Color Pencils ($18, makeupforever.com), the one tool you'll need in your Pride makeup arsenal.
Available in a whopping 39 shades of bright-ass color, these Artist Color Pencils are able to be used pretty much anywhere. Whether you want to contour your lips for a rainbow pout, adorn your eyes with technicolor lines, or show your pride however you want all over your face, these highly-pigmented, matte pencils will help you achieve it.
While the pencil's tip allows for sharp, precise lines if you want them, the formula is also easily blend-able, meaning you can achieve all-over color (a bright blush or a rainbow contour, perhaps?), and it's long-lasting, so your look will last you a whole Pride Parade and then some. And, of course, if you're bursting with pride, but a toned-down look is more your style, the line also includes several neutral colors.
If you thought you were ready to show off your pride come June, Make Up For Ever is already one step ahead of you. The brand maintains that, because self-expression comes in so many forms — including makeup — Make Up For Ever has had inclusivity and diversity of all people in mind when creating any of its products since the brand's conception over 30 years ago. Therefore, in addition to the launch of the Artist Color Pencils, designed to emphasize the power of self-expression, the brand also launched a month-long campaign called #AcceptedAnywhere on May 16, 2018, in support of the LGBTQ+ community.
As part of the campaign, the brand is collaborating with the Hetrick-Martin Institute, a non-profit organization dedicated to supporting and improving the lives of LGBTQ+ youth, to "honor the journey to self-acceptance and celebrate their 39 years of empowering the journeys of LGBTQ youth." Even more, the brand is encouraging everyone to get involved, and doing so is literally so easy, I could do it in my sleep.
From now until June 16, 2018, Make Up For Ever invites you to craft a makeup look that exemplifies exactly what makes you unique. Seriously, the sky's the limit. Next, take a selfie in that look, post it for the world to see on Instagram, and make sure to use the hashtags #AcceptedAnywhere and #Promotion and tag @MakeUpForEverUS and @HetrickMartin in your photo.
For every selfie posted, Make Up For Ever will donate $10 to the Hetrick-Martin Institute for a huge donation of up to $39,000. Just by posting a selfie of your kick-ass makeup look (which, let's be real, aren't we all gonna do this anyway?), you can make a huge impact on the lives of LGBTQ+ youth.
Now, with your Artist Color Pencils (available online and in-store at Sephora and Sephora.com, and at Make Up For Ever boutiques and MakeUpForEver.com) at the ready, Instagram your unique creation and show your pride. It'll make a bigger difference than you think.