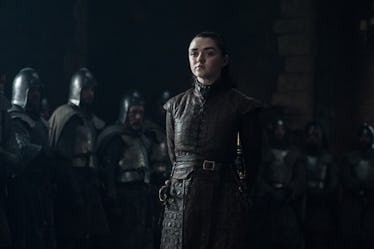 Maisie Williams Got Another 'Game Of Thrones' Tattoo & It's The Most Arya Stark Thing Ever
HBO
It will be at least six months, if not longer, before the final six episode of Game of Thrones air on HBO. But filming has finished, and the actors are moving on. At least, the adults are. For the child stars who came up on the show, it's time to process the memories of the last 10 years before looking towards the future. First Sophie Turner, who plays Sansa Stark got a tattoo commemorating this period of her life. Now her best friend, co-star, and on-screen sister has done it too. Maisie Williams' "No One" tattoo is both fantastic and striking, both for how entirely in-character it is, as well as how it compliments the one Turner has.
Turner's tattoo, which she got a few weeks ago was suggested at the time to be a spoiler. It's a Stark saying that sticks with the readers of the books. "The lone wolf dies, but the pack survives." On the page, it's said by Ned Stark, but in the show, it's Turner who gets to utter those words. Her tattoo is the last three words "The Pack Survives," done in an old-school typewriter font, with the Stark dire wolf symbol.
Now Williams has gotten her own tattoo, in the same font. But her words are ones attributed only to Arya: "No One."
Sansa's journey is about getting to the head of the Stark family, though she doesn't know it when she starts out. Her tattoo isn't a spoiler, it's about who her character becomes and what she believes in by the end of the story: It's all about the pack's survival.
Arya, on the other hand, is a girl who struggled to figure out who she was, denying herself and her name for a long time. She did it out of grief, out of anger, out of wanting to make the pain go away. But Arya could never forget herself all the way and become No One. She may have been No One for a time, but she was always herself too.
Williams' tattoo speaks to her character's struggle. Where Turner's tattoo is on her arm, visible to herself as a reminder for the rest of her life, Williams' tattoo is on the back of her neck, something to be seen only by others. It's also in red ink, so it's not as visible. It's a warning in blood. In the front she is Maisie, but hiding in the back, always there in the back of her mind: "No One."
Like Turner, this is now Williams' second Game of Thrones-based tattoo. She and Turner got matching tattoos at the end of Season 6 filming. Those tattoos were more personal, the date "07.08.09," aka Aug. 7, 2009. It was the day they both learned they had been cast into the roles that changed their lives forever.
Fans will next see Williams and Turner in their respective X-Men roles in 2019 and 2020. Meanwhile, Game of Thrones Season 8 will turn up at some point on HBO next year.