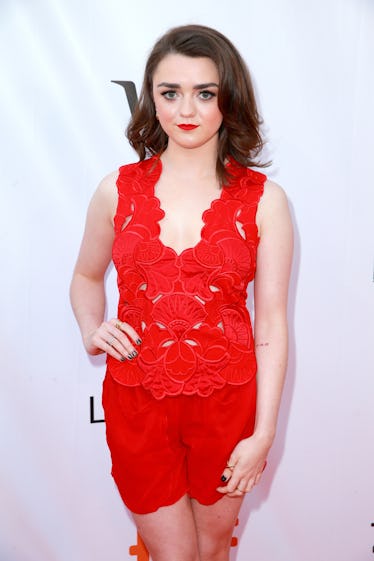 Maisie Williams Just Majorly Changed Her Hair & RIP Arya Stark
Rich Fury/Getty Images Entertainment/Getty Images
Game of Thrones' popularity is almost immeasurable and the world will shed a collective tear when the final episode ends. The last season has yet to air but filming has wrapped and the cast is celebrating by shedding their characters' looks. Maisie Williams' new bangs are the most recent transformation and I guess Arya Stark has been thrown to the direwolves.
Many people get bangs as a transformative haircut – to shed the remains of a breakup or to celebrate a new life achievement. In Williams' case, it's to mark the end of filming the eighth and final season of Game of Thrones, a show which has, so far, defined her career. Williams is 21 years old, meaning she was only about 13 years old when Game of Thrones began, so it's understandable she'd want to change things up a bit.
Other Game of Thrones actors have also pledged to change up their looks once the show wraps. Kit Harrington plays heartthrob Jon Snow and has vowed to chop off his infamous long, curly hair once done filming. Sophie Turner, who plays Williams' sister Sansa Stark on the show, actually has naturally blonde hair, but dyes it red for the job. Williams hasn't been as public about wanting to shed her Stark persona, nonetheless, she just made a serious change.
A quick look back at Williams' typical hairstyle of the past eight years. This photo of the actress is from 2017 and it shows more or less what her off-screen tresses have looked like throughout Game of Thrones' run. Are you ready to see what she looks like now?
Boom. Williams posted, "new hair, who dis?" It actually took me a second to figure out who it was!
Williams posted a second photo of her new look, wearing a pink beret that highlighted her bangs.
The actress formerly known as Arya Stark actually first debuted her bangs a few days prior to that Instagram post. Williams and her bangs attended a screening of the film The Miseducation of Cameron Post on Aug. 22 in London. I'd consider this a soft opening for her bangs, though, with her Instagram post being the big debut.
Emilia Clarke, AKA Daenerys Targaryen, AKA Khaleesi, is another member of the cast ready to update her look. Clarke has been recognizable as her character with her waist-length platinum blonde tresses, and she often rocked the look IRL.
Clarke recently took to Instagram, though, to display her new dirty blonde hair. It seems that she's also trying to rebrand her look.
Turner shed her character's red hair post-filming, as well. "New beginnings, new #WellaHair! ♥️ Thank you @sonyadove and @cwoodhair for transforming my look with @wellahairusa. #AskForWella #ad," posted the actress. OK fine it's an #ad, but she's still got gorgeous blonde hair that she can only have because Game of Thrones has wrapped filming. As Sansa on-screen, Turner rocked the Stark's family's iconic red hair, but now she's lightening things up a bit.
Now the world must wait and pray that Harington doesn't actually chop off those luscious locks.