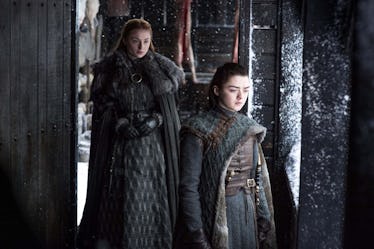 Maisie Williams Kept This Iconic Arya Stark Memorabilia At The End Of 'GOT'
HBO
Game of Thrones is now entering the final post-production phase on their last season. All filming is over, and the location sets now sit empty, unused, waiting for 2019's tourist season to begin as travelers look to visit Westeros. The actors are all moving on to their next jobs or taking well-earned vacations. And the props and costumes will be preserved to go on display at future Game of Thrones exhibits. Well, most of them will. Turns out Maisie Williams kept Arya Stark's jacket for herself, so that's one costume item which won't get to be part of the Game of Thrones Exhibition, should it come back next spring.
Most of the stuff used on Game of Thrones doesn't get to leave. In fact, most actors are never allowed to take things with them when they go unless they smuggle them out. This is especially true on a show like Game of Thrones where there is vast audience interest. Like Downton Abbey or Harry Potter, HBO can commission traveling museum exhibits or pop up galleries at large scale events like SXSW and make copious amounts of money on entry fees.
A Game of Thrones Exhibition filled with props and costumes has already happened on and off over the seasons. So keeping hold of everything is very important.
But even though there's the money-making reality, there's also the emotional one, too. Williams was 12 when she was cast in the show, she's 21 now. She grew up on the set — went in a kid who hadn't hit puberty and came out the other side a mature adult. The end of the series hit her hard. Appearing on The Radio 1 Breakfast Show with Nick Grimshaw as one of his final guests, she admitted she lost it wholesale on the last day of shooting.
I cried a lot. Get the kleenex out. I bawled and I tried to do a speech…I got back to my trailer and I was like, 'I can't even remember what I just said.' I probably just whittled on for, like, half an hour…I grew up with these people. It really is like cutting an arm off.
Apparently, one of the costume workers took pity on her and agreed they would send her one of her last costume pieces: The brown leather doublet she began wearing in Season 7 after her return to Winterfell, the one that made her look like a mini-Ned (or Mini-Robb) Stark.
Even so, Williams is pragmatic this is a piece which only means something to her.
I can imagine it being something that I'm like, 'Oh, I was on this show once upon a time and this was the jacket I wore.' And my grandkids being like, 'Please stop.'
Maisie Williams's next project is to try her hand at live theater, she'll be seen live onstage at the Hampstead Theatre in London later this year in I and You. She also goes back for reshoots for X-Men: The New Mutants, which will be out sometime in 2020. And everyone will see her final turn as Arya Stark in Game of Thrones Season 8 which will turn up on HBO at some point in the first half of 2019.