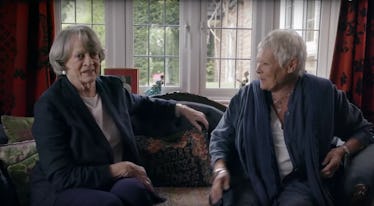 Maggie Smith & Judi Dench's 'Tea With The Dames' Trailer Is Filled With Gossip & Giggles
IFC Films
There is nothing like a good gossip session, and an upcoming documentary is inviting you into one of the best gossip sessions imaginable. Four of the most respected actresses in the world (who also all happen to be royally appointed Dames and lifelong friends) got together to sip tea and dish about their illustrious careers, and it is all on tape. Maggie Smith and Judi Dench's Tea With the Dames trailer will have you giggling from start to finish.
The new trailer gathers together Dames Maggie Smith, Judi Dench, Eileen Atkins, and Joan Plowright in a quaint cottage in the English countryside for some tea, reminiscing, and some laughs. Together, the four women have been responsible for some of the most memorable film, television, and stage performances of the past century, and have worked with pretty much every major name in Hollywood. So obviously, they have a lot of stories to tell. And don't think just because they are older ladies that they will keep thinks prim and proper: Dench is quick to tell the film's director Roger Mitchell to "f— off" when he asks the Dames to speak about aging, and Smith throws some masterful shade at Plowright's husband Laurence Olivier. There are also some pretty interesting insights into how these women have watched show business evolve throughout the years, as Atkins notes how all of them believed they were just going to be stage actors when they started out, but then found themselves on screens as Hollywood boomed.
And you can tell that this gossipy giggle-fest is only the tip of the iceberg, as the trailer ends with the Dames switching out their teacups for champagne glasses. Well, that is sure going to spice up these stories even more! As if Judi Dench calling herself "a menopausal dwarf" was not already loose and hilarious enough. Check out the full trailer for Tea With the Dames below:
Tea With the Dames was actually originally entitled Nothing Like a Dame up until the title was recently changed. The documentary was directed by Roger Mitchell, who is best known for directing the classic British romantic comedy Notting Hill. The new movie was shot over a weekend in the countryside earlier this year, and promises to give fans an up-close and unfiltered look at the lives of Dames Maggie Smith, Judi Dench, Eileen Atkins, and Joan Plowright, along with fascinating tidbits about what really went on in Hollywood back in the day.
Along with the historical perspective, Tea With the Dames also celebrates the long-lasting friendship between these four legendary actresses. All four Dames, who are currently in their mid-80s, began their acting careers over half a century ago, and have not slowed down since. In fact, some of their most iconic roles of all have come later in their lives, such as Maggie Smith's parts in Harry Potter and Downton Abbey, and Judi Dench's Academy Award-nominated lead roles in Notes on a Scandal and Philomena.
You can check out Tea With the Dames when it hits theaters on Sept. 21, or when it becomes available on-demand on Sept. 27.