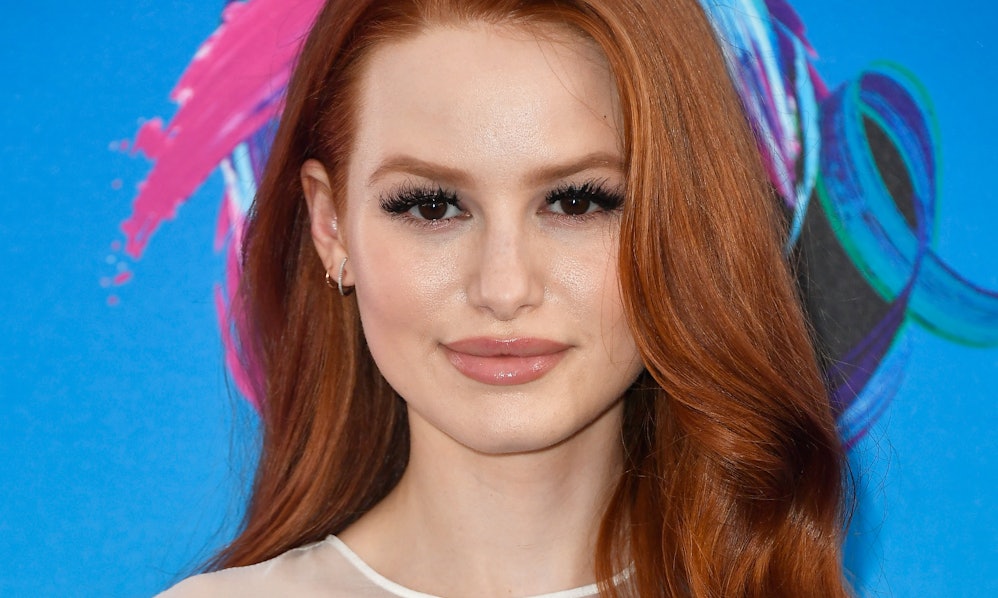 Frazer Harrison/Getty Images Entertainment/Getty Images
Madelaine Petsch's Beauty Routine Is Nothing Like 'Riverdale's Cheryl Blossom's — It's Better
It's been a while since I've roamed the halls of my high school, but when I watch TV shows like Gossip Girl, Pretty Little Liars, and Riverdale, the cast feels much more relatable only as I've gotten older. Madelaine Petsch's beauty look on Riverdale as Cheryl Blossom is nothing like how I was in high school. Aside from looking and acting lightyears younger than her, the way she wears red lipstick all the time, how she talks, dresses, and interacts with her classmates, feels like anything but an adolescent high-school student. Her mature persona makes it feel almost impossible for any high schooler to feel a sense of closeness to her (and I'm not just talking about her ice-queen vibes). I could see my high-school self wanting to be more like her because she comes off as a total badass, but would never be able to pull it off.
However, when I sat down to talk with Petsch for Elite Daily, it turns out that she not only relates to her character, Cheryl, she finds similarities in the way they grew up. "I guess I relate to the loneliness that she feels," she explains. "I felt that a lot growing up. The isolation was there, but in a different way. [Cheryl] was isolated by her family. First and foremost, I had a wonderful, loving family, but I felt very isolated from the town that I grew up in." She admits, "I was definitely very different and not necessarily one hundred percent accepted just because of my red hair and looking different."
Madelaine admits to letting the bullying get to her and even wished she could change her hair color when she was young. "As a kid I felt like I was missing out on something because all my friends were dying their hair," she tells me. "I would get FOMO, but my mom was like 'I'll disown you,' so I never dyed it." Moms always know best. Always. She adds, "when I was a kid, being a redhead was so not in at all but I find now people are starting to see it as a unique trait. The more people appreciate my red hair, the more I appreciate it because I was so used to being bullied for it as a kid. I wanted any other color but red and now I realize how lucky I am to have red hair."
"Cheryl wears a lot of makeup and I wear minimal makeup. She's more into a bold eye and bold lip, but I prefer a more subtle look. Cheryl's makeup routine would consist of any kind of red lipstick, and probably bringing a foundation with her wherever she goes."
First of all, haters gonna hate. Secondly, what is there to make fun of? I'm obsessed with her red hair.
But aside from her fiery shade of hair, which she also thinks pairs well with her "feisty and quippy" personality, I had to get the scoop on her beauty routine from skin care to makeup. And while her fans assume that Madelaine is basically the exact person she plays on Riverdale, she tells me that one of the biggest differences comes down to personal beauty routines. "Cheryl wears a lot of makeup and I wear minimal makeup. She's more into a bold eye and bold lip, but I prefer a more subtle look. Cheryl's makeup routine would consist of any kind of red lipstick, and probably bringing a foundation with her wherever she goes." She does look perfect at all times, after all. "Maybe a good mascara, eyeliner, and a concealer brush to touch up her red lip."
When she's not borrowing Cheryl's beauty routine for Riverdale, these are the five products Madelaine uses on the daily.
Biore Baking Soda Acne Cleansing Foam, $7, Target
"I'm loving Biore's Baking Soda Acne Cleansing Foam. I got it four months ago and I've been hooked ever since. It also smells amazing." I'm loving how affordable it is — I'm definitely adding this one to my shopping list!
"I love the Glossier Balm Dotcom Rosebud Skin Salve. It's amazing." We also talked about how we apply it everywhere and how it's perfect for taming brows.
Fenty Beauty Match Stix Matte Skinstick, $25, Sephora
We both suffer from oily skin and Petsch relies on Fenty Beauty Match Stix Matte Skinstick in the shade Linen because it keeps her skin matte and admits to keeping one very '90s product with her at all times.
"Any kind of oil-blotting paper. I always have them in my purse because I have combination skin and I get really oily."
HOURGLASS Arch Brow Sculpting Pencil, $34, Sephora
RMK Golden Brown Brwo Gel, $23, Selfridges & Co.
Petsch reaches for the HOURGLASS Arch Brow Sculpting Pencil and then applies RMK Golden Brown Brow Gel on top to warm it up.
While her on-screen counterpart was inspired by the Archie comics' character that first made an appearance in 1982 (12 years before Petsch was even born), Madelaine has a completely different set of beauty muses. "I love Audrey Hepburn's classic beauty style. I want to start winding down to more simplicity."
I truly believe you need to draw inspiration from multiple sources in order to create your own unique look. Aside from her classic beauty muse Audrey Hepburn, Madelaine looks to fashion and beauty chameleon Zendaya. From gender-bending style to ever-changing hair and makeup, it's no wonder so many people look to her for inspo. "I also love Zendaya because she has phenomenal style," gushes Petsch. "You can tell her mood by what she's wearing — I love people who lean into their own personalities with their style."
And from what I can tell, Madelaine Petsch has learned a thing or two about her own personal beauty style from drawing inspiration from her muses.