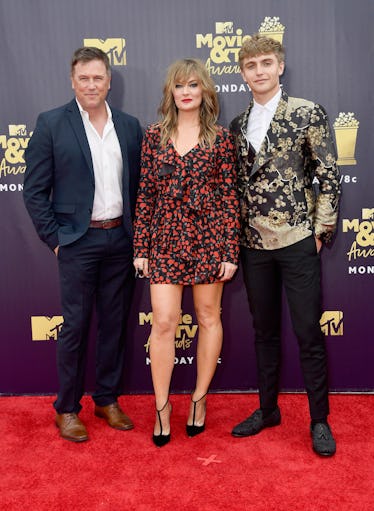 The 'Riverdale' Cast Weighs In On That Major Hal Cooper Theory & I'm Convinced – EXCLUSIVE
Frazer Harrison/Getty Images Entertainment/Getty Images
Riverdale is the show of a million theories. Once something happens on the CW series fans furiously debunk it, go digging for more, or look for ways to tie events into future plotlines. With so many mysteries, twists, and shockers, why wouldn't they want to go full Nancy Drew (or Betty Cooper) and investigate the possibilities? It's not just viewiers who are weighing in... Elite Daily got the chance to speak to some of the actors behind the Cooper clan at the 2018 MTV Movie & TV Awards and Mädchen Amick's reaction to Riverdale's Hal Cooper twin theory will keep you guessing.
When I asked about some of the craziest fan theories they've heard since Riverdale's inception, Hart Denton aka Chic Cooper, Mädchen Amick aka Alice Cooper, and Lochlyn Munro aka Hal Cooper responded in true Riverdale fashion... leaving doors and mouths wide open.
"The big fan theory out right now is that I'm a twin and that's not really Hal in prison," Munro remarked.
If you're caught up Riverdale, you're aware that Hal got locked up for being identified as the main Black Hood. So, is it fathomable not really him? Allow Amick to chime in with her thoughts and give life to the intriguing prospect:
It's interesting because he is in a family that has a bunch of twins. So, he's part of the Blossom family and they all have twins... So, there could be.
Um, way to convince us. Even if she's only teasing, I'm saving this theory in my back pocket...
Denton remarked that the rumor he's "Pop's son" was the wildest thing he heard regarding his character.
In addition to talking fan speculation, Amick discussed her hopes for the complex Alice Cooper as the show moves forward. The audience has seen the varying sides of Betty's mom throughout the series — from the Serpent to the serious to the #Falice. What does she want in Season 3?
I'd finally want Alice to be happy and have a moment of letting go. She needs to step into what she is, and step into her power. I want her to have a good time, like a good night out.
Who wouldn't want a night out with fun Alice?
As for the cast's dream Riverdale guest stars, Munro would welcome Nick Cage (nice) and Denton chose Matthew McConaughey (double nice). But Amick has a certain Oscar nominee in mind that would further her wishes for Alice.
"Ryan Gosling," she admitted. "Sorry Papa Coop, but Mama Coop needs to go out!"
Fair enough.
Season 3 of Riverdale hasn't started shooting yet, so info about what's to come is still rolling in.
"They're writing right now and they're only giving us little tidbits," Amick explained.
"I'm excited for what's been rumored, I think we're gonna amp things up," Denton said the thrilling drama's upcoming chapters.
Chic Cooper's Riverdale fate was uncertain at Season 2's end, but it sounds like he'll be returning for more creepy appearances.
Showrunner Roberto Aguirre-Sacasa spoke to EW in May about the direction he planned on going with Season 3 compared to the previous two:
They were very different seasons. One was a murder mystery; one was more of a serial killer in a small town. There will definitely be a genre element that draws on a tradition of pulp and noir, and a few other genres. There will be an investigation aspect to the season and a mystery aspect to the season, and I'm sad to say that probably Dr. Curdle in the coroner's office will still be in business next season.
Maybe some of the more outrageous fan theories will come to light when the show starts up again? Riverdale returns to the CW this fall.