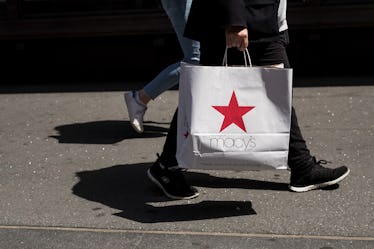 You Can Get BOGO Boots & Half-Off Winter Coats During Macy's Cyber Week Sales
Drew Angerer/Getty Images News/Getty Images
Now that you're all filled up and trying to digest the food you ate over the Thanksgiving weekend, it's time to shop. If you're like me, fighting off crowds on Black Friday is the last thing you'd rather do. So, lucky for us, Macy's Cyber Monday 2018 sales guarantee we can shop till we drop in the comfort of our own homes. Gear up those search engines, folks.
On Monday, Nov. 26, shopaholics from all over will be able to enjoy unbeatable deals from our favorite big-name retailers. Since thousands of stores participate in this annual event, it's no surprise that top retailer Macy's is a go-to destination to snag some great finds. From impressive technology to items for the home, I'm not exaggerating when I say that there's literally something for everyone. Do you hear that? That's the sound of my credit card being swiped.
Many of Macy's Cyber Monday sales will actually last from Sunday, Nov. 25 through Wednesday, Nov. 28, so you've got more time to browse and make decisions. The retailer has deals for everyone from up to 50 percent off women's coats, to up to 60 percent off Polaroid bluetooth headphones, to one of the best deals on Series 3 Apple watches —Macy's shoppers can save anywhere from $50 to over $100 on Apple smart watches for themselves or as presents. Since Apple itself rarely has deals or discounts, Macy's discounted price is a pretty big deal.
When I say Macy's has deals for everyone, I mean it. Discounts and bargains can be found in almost every category on Macys.com, including men's, women's, and children's clothes, home furniture, kitchen items, shoes, handbags, jewelry, watches, makeup, skincare, electronics, tech, gadgets, and toys. Want to hop on the smart speaker bandwagon? The Amazon Echo Show is 20 percent off. Need dresses for your various holiday and New Year's Eve parties? Women's dresses and rompers are significantly marked down. Prepping for a getaway? Expect major savings on brand-name luggage like Kenneth Cole, Samsonite, and Steve Madden.
Even though shopping can be a stressful experience at times, these deals couldn't have come at a better time. Now that Thanksgiving is officially over (and our stomach aches prove it), it's time to start thinking about Christmas, and all the gifts that need to be bought. Even though holidays mean a lot more than gift-giving, a new toy is always a nice benefit to these special occasions.
Shopping at Macy's guarantees some incredible gifts for your loved ones, but believe it or not there are even more sales that go above and beyond the typical presents.
For those who have been itching to take a vacation lately, Expedia is offering a Cyber Monday sale that makes flying easier (and a ton cheaper). According to its website, travelers can score up to 75 percent off of hotel rooms and $100 off select flights when they purchase during their Black Friday sale. Interested? Of course you are. So, here's the full rundown to this special sale. According to Expedia, customers will be able to enjoy 50 percent off flight coupons and 90 percent off hotel deals. As for the rest of the perks, try not to get too excited:
$100 off $200 flights
50 percent off standalone hotels
10 percent off standalone hotels
$100 off $1,000 vacation packages
$100 off $200 activities
These deals will be available once the sale goes live on Friday, Nov. 23 at 9 a.m PT/ 12 p.m. ET and will go through Monday, Nov. 26. I don't know about y'all, but I'm ready to book my flight.
Whether you're spending Cyber Monday by grabbing products online or perhaps booking a long-overdue flight, the options are seriously unlimited. No matter what gift you choose to give a loved one (or buy for yourself), there's obviously no wrong choice. Happy shopping, everyone. Think of your bank account at a later time.