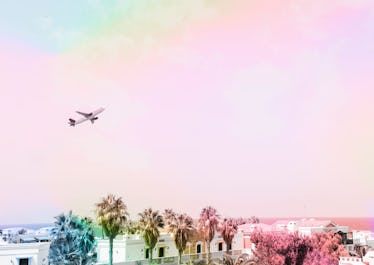 You Can Get $100 Off Flights During Expedia's Black Friday & Cyber Monday Sales
Once the last slice of pumpkin pie has been devoured on Thanksgiving, I immediately begin thinking about Black Friday sales. Even though some companies start their big sales ahead of Thanksgiving, there are still traditional Black Friday sales that begin on — you guessed it — Friday. One travel website is taking advantage of the entire Thanksgiving weekend for its deals, and you will definitely reap the benefits when you shop Expedia's Black Friday and Cyber Monday 2018 sales.
According to Expedia's website, you can score up to 75 percent off hotel rooms and $100 dollars off of select flights during the Black Friday sale. Before I get to the specifics of exactly how you can save big on travel plans during the sale, I'll tell you exactly when you should log on to get the most out of one of the biggest deal days of the year.
Expedia's Black Friday sale begins at 9 a.m. PT/12 p.m. ET on Friday, Nov. 23, and the deals go through Cyber Monday on Monday, Nov. 26. The travel savings will be available a couple ways: straightforward deals and limited coupons, per an Expedia blog post detailing the Black Friday and Cyber Monday sales. On offer, there are savings on "hotels, flights, cruises, rental cars, activities and packages."
It appears that the biggest savings available will come from coupons, and since these will only be "available while supplies last," you'll want to get a good look at what's possible in terms of saving on your winter getaways. It's super easy to redeem the coupons, too: enter the "designated public code" for your specific deal when you checkout, and you'll be all set. Keep in mind that it is one coupon code per customer.
OK, let's get to the goods. First of all, there are 50 percent off flight coupons on the site once the sale goes live on Friday. If you keep your phone handy, you can also score deep discounts in the Expedia App, like up to 90 percent off hotel rooms. Planners, get your pen and paper ready, because, per the Expedia post, these are the Friday, Nov. 23 coupon deals you do not want to miss:
$100 off $200 flights
75 percent off standalone hotels
$500 off $1,000 vacation packages
$25 of $50 activities
10 percent off standalone hotels
Some of the exclusive coupons on hotel bookings and packages include savings for vacay-worthy destinations like Orlando, Los Angeles, San Diego, Miami, and Las Vegas.
Did you sleep in a little too late on Friday thanks to an extra helping of turkey or pumpkin pie? No worries — you can still save on future travel all weekend long. More specifically, the Cyber Monday coupons on Monday, Nov. 26 will keep your wallet very happy this holiday. They include:
$100 off $200 flights
50 percent off standalone hotels
10 percent off standalone hotels
$100 off $1,000 vacation packages
$100 off $200 activities
Even if you don't have a specific destination in mind, these deals were made for you to take a vacay.
Additionally, the Expedia App will have 90 percent off select hotels on Monday, Nov. 26. Miss a deal that launched early on Monday? No need to fret, because the $100 off flight deal, 90 percent off app-exclusive deal, and the 50 percent off hotels deal will automatically refresh on the Expedia website and on the app every hour from 9 a.m. PT/12 p.m. ET through 3 p.m. PT/6 p.m. ET.
Oh, and if you do your booking through the app, you'll also get double Expedia points on your purchase. There are no blackout travel dates outlined in the deals on the site, but as with most deals, you will have to travel by a certain date with your deals, per Expedia. You'll know the specifics of when to travel by when you book your deals on Black Friday and Cyber Monday. TBH, with all the warm weather destinations, you'll probably want to take your trip ASAP, so I'm sure the "travel by" dates won't deter you from getting all the best savings you can. Happy travels!