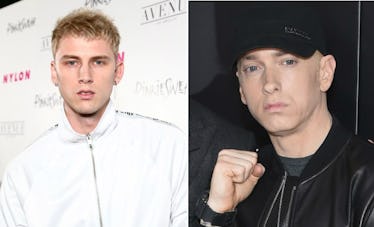 Machine Gun Kelly Just Responded To Eminem's "Killshot" Diss Track On Stage At A Concert
Tommaso Boddi/Getty Images Entertainment/Getty Images | Dimitrios Kambouris/Getty Images Entertainment/Getty Images
The feud between Machine Gun Kelly and Eminem is still going strong. And Machine Gun Kelly isn't backing down anytime soon, especially not after being the subject of Eminem's latest diss track "Killshot." In fact, the 28-year old rapper has way more to say about Eminem that perhaps people initially realized. Machine Gun Kelly's response to Eminem's "Killshot" wasn't exactly well thought-out, but it definitely garnered lots of attention. And it'll probably prompt Eminem to strike back.
At an Orlando concert on Sunday, Sept. 16, Machine Gun Kelly stormed the stage wearing the logo for "Killshot," which is basically a picture of himself with a target right between his eyes. During the concert, Machine Gun Kelly revved the crowd up with a few choice words about Eminem, whose real name is Marshall Mathers.
"F**k Marshall Mathers," Machine Gun Kelly reportedly said. "The real Slim Shady can't stand up."
This was in response to Eminem's aggressive "Killshot" lyrics, which include:
Ow, Kelly, ooh, but I'm 45 and I'm still outselling you / By 29 I had three albums that had blew / Now let's talk about somethin' I don't really do / Go in someone's daughter's mouth stealin' food / But you're a f**kin' mole hill, now I'ma make a mountain out of you, woo! / Ho, chill, actin' like you put the chrome barrel to my bone marrow / Gunner? B*tch, you ain't a bow and arrow
Eminem and Machine Gun Kelly have been feuding for a few weeks now. Their problems started when Eminem released Kamikaze, a surprise album with lyrics that diss pretty much everyone in their industry. In a track called "Not Alike," Eminem took shots at Machine Gun Kelly specifically:
If you wanna come at me with a sub, Machine Gun / And I'm talkin' to you, but you already know who the f**k you are, Kelly / I don't use sublims and sure as f**k don't sneak-diss / But keep commenting on my daughter Hailie / I keep on telling motherf**kers / But just in case you forgot really and need Ja memories / Jarred like strawberry or pineapple, apricot jelly / I respond rarely, but this time Shady 'bout to sound off / Like a f**kin' cocked semi Glock, demi-god / Let me put a f**kin' silencer on this little non-threatening blonde fairy cornball takin' shots at me.
Not taking the insults lightly, Machine Gun Kelly took to Twitter to announce he was creating a diss track of his own called "Rap Devil."
The rapper tweeted the following:
In "Rap Devil," Machine Gun Kelly alleged that Eminem tried to end his career before it even got started. He also insinuated that the veteran rapper was too old for these types of feuds:
Let's talk about the fact you actually blackballed a rapper / That's twice as young as you (let's talk about it) / Let's call Sway / Ask why I can't go on Shade 45 because of you (brrt) / Let's ask Interscope / How you had Paul Rosenberg tryin' to shelf me (huh?) / Still can't cover up the fact / Your last four albums is as bad as your selfie / Now tell me, what do you stand for? (what?) / I know you can't stand yourself (no) / Tryin' to be the old you so bad you Stan yourself (ha) / Let's leave all the beefin' to 50 (please) / Em, you're pushin' 50
Yikes! Definitely some harsh words and sentiments being thrown around there. And if what Machine Gun Kelly alleges is true, then there's a solid reason for the beef between those two.
On Eminem's side of things, though, there's little truth to these words.
In an interview with Sway Calloway, Eminem explained why he dissed the other rapper:
The reason that I dissed him is because he got on — first what he said 'I'm the greatest rapper alive since my favorite rapper banned me from Shade 45' or whatever he said, right? Like I'm trying to hinder his career. I don't give a f**k about your career. You think I actually f**king think about you? You know how many f**king rappers are better than you? You're not even in the f**king conversation.
It doesn't look like there's any resolution in sight for these two rappers. My guess is that this feud will rage on for weeks to come.