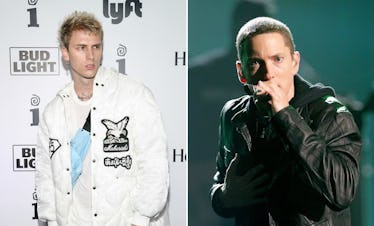 Machine Gun Kelly Basically Just Apologized For What Started His Beef With Eminem
Cassidy Sparrow/Frederick M. Brown/Getty Images Entertainment/Getty Images
Will the fighting between Eminem and Machine Gun Kelly ever end? Apparently, the answer is no — or at least, not anytime soon. While their feud has been quietly simmering for the past six years, it looks like it's all bubbling over now, and both rappers have taken plenty of hits at the other's public and personal life. In a recent interview with Eminem, the rapper addressed how he really feels about MGK, and now, it looks like MGK is firing back. And you guys, Machine Gun Kelly's comments about his beef with Eminem are totally hitting below the belt.
On Thursday, Sept. 20, Machine Gun Kelly went on Power 105.1 radio show The Breakfast Club and rehashed his feud with Eminem, and made it very apparent that the pair are not on good terms.
"He doesn't want to have a conversation...F*ck you. You blew it," Kelly said about Eminem. "You blew it. It's cool 'til it ain't. I wish he would shut the f*ck up."
But he wasn't even close to being finished. He said,
Use what I've done with this Em situation as an example to the youth. Let's be clear, stand up to people that are f*cking with you and stand up with a purpose.
I can completely get behind standing up for what you believe in, but I'm not *quite* sure this is the best example of that notion. But I digress.
Kelly then discusses the reason behind a portion of their feud: Eminem's daughter, Hailie.
On Aug. 30th, Eminem released his most recent album, Kamikaze, which included the song "Not Alike," a diss track geared toward Machine Gun Kelly. The lyrics are directed towards MGK and his comments about Eminem's daughter, Hailie, that he tweeted back in 2012, reportedly saying that the 16-year-old was "hot as f*ck."
Now, while speaking on The Breakfast Club, Kelly revealed that he spoke with Eminem's manager at the time and reportedly "handled" the situation out of the public eye:
It all started with the daughter thing. I didn't know how old she was. I made a comment, I didn't feel like it was disrespectful but I'm a father, I have a 9-year-old daughter, I get it, 100 percent and man to man, I'll tell you, I apologize, can I take the tweet down? Sure. But public apology? Come on...We're talking about the same guy who sh*ts on dead people.
Kelly continued, adding,
It was a silly comment to have started all of this. It's something silly to trip on. I get it if it was like, you know, gruesome words were used or like, there was, you know, sexual implications in it. [I just said] she's hot.
Not precisely an apology, but at least the word "sorry" was in there?
Whatever. It'll do.
Of course, just days after Eminem's release of "Not Alike," Machine Gun Kelly released a diss track of his own called "Rap Devil," where he attacked Eminem and claims that he contacted Diddy to hinder MGK's career.
Not to be outdone, Eminem then released "KILLSHOT" on Sept. 14, which had lyrics not-so-subtly aimed at Kelly:
Realized I forgot to call you back / Here's that autograph for your daughter, I wrote it on a Starter cap / Stan, Stan, son, listen, man, dad isn't mad / But how you gonna name yourself after a damn gun and have a man bun?" and "So what good is a f--kin' machine gun when it's out of ammo / Had enough of this tatted-up mumble rapper.
And in his interview, Machine Gun Kelly said that he didn't even think his daughter "would want the autograph" from Eminem. "She texted me when that "KILLSHOT' came out and was like, 'Eh.' At 9 years old. You can't even offend a 9-year-old?"
Kelly also took offense to Eminem's critiques on his looks. "You want to talk about man buns?" he said. "You want to talk about a hairstyle I wore for a movie, a blockbuster movie, shout-out Nerve, and a 10-episode Showtime series called Roadies? I'm an actor, homie. How disconnected are you?"
OK, let's slow it down here a bit!
But LOL, because MGK did not slow down. Not one bit. "You called me a 'mumble rapper'? Can we just pour some out for this old dumbass?" Kelly said, reportedly pouring out liquid from his cup onto the floor, saying, "I can't even."
Kelly says that, while he understands that he himself will become old one day, he won't be a "hypocrite," and he won't ever be "bitter":
...I'm not a hypocrite. I'm also not gonna be doing what Eminem's doing when I'm his age ... I will never be still bitter after everybody is showing respect and I don't plan on stopping until I get my respect. There's going to be a point when my face is on movie screens...it's going to get to the point where there's so many songs...it's going to get to a point where you can only try and hold me so many times that I continuously overcome that sh*t...I'm a fighter man.
Well, I've got to give Machine Gun Kelly that, at least. He's proved that he certainly *can* fight.