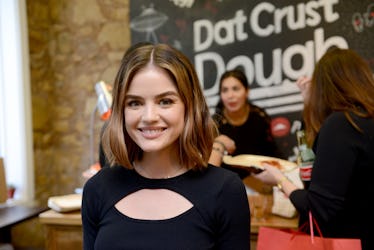 Lucy Hale's Future Festival Outfit Will Shock You — EXCLUSIVE
Sasha Haagensen/Getty Images Entertainment/Getty Images
She may be a stellar actress and a casual fashion icon, but Lucy Hale's fashion tips are far from what you'd expect of a famous Hollywood starlet. She loves TopShop, laments getting deodorant marks on her favorite shirts, and doles out fashion advice like your best friend. I recently sat down with Hale to discuss all things style, and by the time I got home, I finally had the confidence to wear that daring black dress of an impulse-buy that's been collecting dust in my closet for far too long.
If you're a total Pretty Little Liars stan like me, then you are no stranger to the beauty and grace that is Lucy Hale. Aria was my OG fashion icon going into college. I coveted her mini skirts, leather accents, and passion for patterns. When Aria got pink highlights, I got pink highlights (they were clip-ins, but still). Aria always went with her gut, and her fashion reflected that. "Aria," Hale explains, "was the trendsetter. She's the girl that's on top of all the latest cool things." Who wouldn't want to rock hot pink with leopard paired with an insanely large piece of statement jewelry?
"Aria was the cool girl who was willing to do anything, which I really respected," Hale tells me. When it came to fashion, Aria had no fear.
Don't expect to see Hale's newest character rocking stacks of chunky necklaces, studded bangles, and leather, though. Stella, who Hale portrays in the new CW series Life Sentence, couldn't be more different than Aria Montgomery. Stella is a sweet, young 20-something who spent the majority of her sheltered life battling cancer. During the pilot, she finds out her cancer has been cured, and, accordingly, must stop living for today and start living for the future.
"I had this idea from the beginning that I wanted [Stella] to have a vintage feel," Hale said, "I wanted her to feel like she was almost from a different era." Hale and the show's wardrobe stylist utilized classic pieces like tailored dresses and more sophisticated accents such as Peter Pan collars to convey Stella's character through her fashion. According to Hale, Stella's fashion is "something you don't typically see a young 20-year-old wearing... I felt she was an old soul."
"Lucy falls somewhere in between the both of them," Hale told me. Although you won't catch Hale sporting Peter Pan collars as she strolls the grounds of festivals like Austin's South by Southwest, she admits her characters do influence the way she dresses (and vice versa).
There's something about each character that I play... I sort of take little parts of them with me. It causes me to think outside of the box a little bit. Like, 'Ooo I would never think to wear that, maybe I'll try that in real life.'"
Though Hale is definitely #stylegoals now, she didn't always have her aesthetic figured out. Just like you and me (and most other human beings in the world), Hale also experienced many questionably successful fashion experiments before finding her footing. "[My style's] definitely evolved," Hale says. "Even as a little girl, I've always loved clothes. I've always loved shopping. I've always appreciated it, but I was definitely a lot more timid and shy about what I would wear. And now, I look forward to picking out my outfits."
When it comes to her signature style... she doesn't really have one. "My signature style... I still don't exactly know what my signature style is," Hale tells me (relatable AF), "but I've come into my own."
If you're also figuring out your personal fashion sense, look no further than Hale's BFF-worthy advice. Basically, Lucy Hale just wants you to be yourself.
You don't have to be the biggest trendsetter or the most fashionable person, but find what makes you feel confident and makes you feel comfortable. I always say, don't ever leave the house in something that makes you feel ridiculous. I look back on certain things I've worn, and I [thought], 'I hated that. Why did I wear that?' So it's just not worth it."
Just as Hale uses fashion to express the attitude of her characters, she takes the same approach to dressing, well...herself.
Find things about your personality that you want to express through fashion For me, the number one way to express who I am is through clothes. Just have fun with it! There are no rules. Don't listen to [them] because I think [they're] all based on opinion anyway."
Hale truly does practice what she preaches: She lives in the pieces that make her feel the most comfortable and confident.
"I'm definitely more of a little black dress kind of girl," Hale says. "My whole closet is like... black and whites." Whether you spot her at the Kate Spade runway show, or walking into American Rag in L.A., Hale will most likely be wearing a uniform of black and white staple pieces. "I like to mix and match and re-wear things," Hale says. "Just making new outfits out of staple items."
Hale's passion for re-wearing her favorite items is pretty much the reason for her recent partnership with Degree Women. I don't know about you, but just like Hale, my closet consists of all black and white (mostly black) staple pieces that I re-wear over and over until washing becomes unavoidable. Sometimes, deodorant will stain my clothes (especially my bras) so intensely that even the most vigorous washing machine cycle won't remove the white and gray marks. Simply putting on my shirt inside out will result in tossing my favorite clean black tee in the hamper.
Hale swears by the Degree Ultraclear line, particularly the Degree for Women Ultra Clear Black + White Antiperspirant Deodorant Dry Spray ($5; target.com), which prevents white deodorant stains on black clothes and yellow sweat stains on white clothes. Since Lucy Hale wears it (just like the pink extensions), I too had to immediately try the product. TBH, I've noticed a huge difference in how clean my clothing looks. I no longer have to contort like a member of Cirque du Soleil while putting on my shirt after I've applied deodorant.
Degree for Women Ultra Clear Black + White Antiperspirant Deodorant Dry Spray , $5, Target
Hale's Degree deodorant will also come in handy this festival season. When I met her, she just returned from South By Southwest, where she saw HAIM and Wu-Tang Clan perform. If her insanely busy schedule allows, she'd love to go to Stage Coach and Bottlerock this year.
If she does make an appearance at these festivals, don't expect to see her covered in glitter and spangles. "The last time I went to Coachella was four years ago, and it was when... more [was] better," Hale says. "I was totally flower crowned and feathered out. Now I feel like if I went, less is more. Just because everyone's so over the top." Hale's perfect festival outfit is totally unexpected, probably because it's something you should expect. "I probably would wear a white T-shirt and like, jean shorts or something just to play against what everyone else is wearing," Hale explains. Standing out by playing it cool — what a novel festival fashion strategy.
If you're wondering what piece Hale is most excited to wear this summer, it's a leather newsboy cap. Yes, you heard that right. "I was in Austin and there's a vintage shop called Feathers, and I got this Harley Davidson newsboy cap that's leather," Hale says. "It's intense. I gotta pick the time and moment to wear it, but I'm pretty excited about that."
I suggested she pair it with her white shirt and jeans shorts at the festival of her choosing this summer. So if you see Hale rocking a sweat stain-less white shirt and a sensible Harley Davidson cap on your Instagram feed, you know where she got the idea.