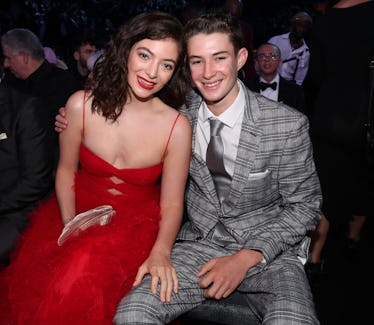 Lorde Matched Her Grammys Dress To Her Flask, So She's A Modern Day Hero
Christopher Polk/Getty Images Entertainment/Getty Images
If there is one artist that has completely captured my heart and ears and soul, it's a certain 21-year-old New Zealander, who is fearless in her sound and just as daring in her style. Lorde's 2018 Grammys look proves that when it comes to defying popular expectations and staying fearlessly true to herself, she's continuing on the path she's been forging since she first broke onto the scene, subsequently showing her fans that weird is cool. And man, do I love her for it!
When Lorde released her debut EP, The Love Club, I immediately became obsessed with her wise-beyond-her-years lyrics and strange, powerful voice. She was 16 when the project came out, and went on to win two Grammy Awards for its hit single, "Royals," in 2013, one for Best Pop Solo Performance and another for Song of the Year.
This year, Lorde is nominated for Album of the Year for her latest release, Melodrama, and is up against Childish Gambino, Jay-Z, Kendrick Lamar, and Bruno Mars. Yes, I want her to win because she's the sole female to be nominated for the award, but also because Melodrama is an incredible piece of work. That album spoke to me in ways no other album has and is sonically brilliant, in my opinion.
Just when I thought I couldn't identify with Lorde wore, she wore a sleeveless red dress to the Grammys and, what's that, a matching flask?!?!
The singer added to the typical accessory option of a clutch and also carried some booze with her. A girl after my own heart. She didn't carry just any old flask though, this one is the exact shade of her gown. The girl matched her flask to her outfit & my life goals have officially changed.
"Lorde at the 60th annual grammy awards holding a flask, oil on canvas," tweeted one user.
"2018 mood: lorde bringing a flask to the #GRAMMYs," mood for the rest of the year for sure.
Zoom on in get a better view of that fiery red flask. What do you think it's filled with? Fireball would be too perfect.
In addition to her fire-colored flask, Lorde took to Instagram to share that she actually affixed a poem onto her back. "My version of a white rose — THE APOCALYPSE WILL BLOSSOM — an excerpt from the greatest of all time, jenny holzer 🕊🌹," captioned the singer. Visual artist Jenny Holzer's words, taken from her 1977 "Inflammatory Essays," speak to a year of unprecedented sexual assault allegations in the entertainment industry.
Rejoice! Our times are intolerable. Take courage, for the worst is a harbinger of the best. Only dire circumstances can precipitate the overthrow of oppressors. The old and corrupt must be laid to waste before the just can triumph. Contradiction will be heightened. The reckoning will be hastened by the staging of seed disturbances. The apocalypse will blossom.
In true Lorde fashion, she utilized fashion as a method of self-expression. When Lorde attended her first Grammy Awards in 2014, she debuted an aesthetic that would become synonymous with the singer for years to come. To perform "Royals" onstage, she wore black trousers, a white top, and dark lips, and to accept her awards, she donned a sleek long-sleeved black dress, again paired with a dark lip. A deep plum pout, wild hair, and dark, witchy style soon evolved into Lorde's signature style, which she rocked regularly in various iterations for years to come.
But recently, with the release of her latest album, Lorde has been stepping out in looks that are equally as unexpected yet in a very different way. Her outfits for the 2017 MTV Video Music Awards are the perfect examples. For the red carpet, she wore a lilac dress by Monique Lhuillier that was fit for a princess — it boasted a fitted strapless bodice and skirt made of wispy feathers. Romantic beauty at its finest!
And for her on-stage performance, she went decidedly more edgy, though in a futuristic way. She wore a metallic silver dress, of sorts, that was again strapless but featured an exaggerated hi-low hemline, which exposed a layer of tulle under the skirt. Sweatpants and Adidas sneakers finished off the look, and though it got mixed reviews from the internet, I actually quite loved it. She's one artist who embraces her strangeness and isn't afraid to look a little out there (have you seen her wonderfully spazzy dance moves?) and it rules.
So when I saw her look for tonight's red carpet, I shed a tear of joy.