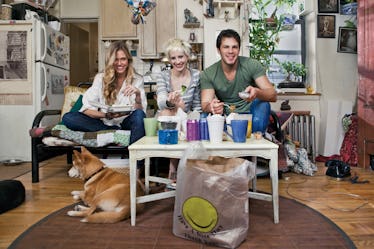 10 Things That Only People Who Live In A Shoebox-Size Apartment Have In Common
In those dreams about adulting and being on your own, you were eagerly handed the keys to a trendy, spacious loft where you could entertain and host all of your friends in style. Realistically, when you're out in the real world in your 20s, that dreamy place is not immediately the case. Finding an apartment with roommates is a path most of us have to trek when we are first starting out. And those apartments aren't always generously stocked with space. You learn to cope with living in a small apartment, because at least it is yours to call home.
When you're adulting, you have to provide for yourself, and if a small apartment is what's in your deck of cards right now, you simply keep playing your hand. Anyone who has endured and admired their shoebox apartment knows there's a set lifestyle to it. You adjust and you don't even realize you're living differently until you go back home or visit a friend's apartment that is way bigger. It definitely humbles you and makes you appreciate everything you work for, that much more. If you're currently living in a shoebox apartment, you're not alone when it comes to experiencing more than a few things.