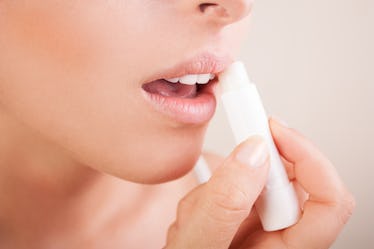 This Beloved Lip Line Has A Secret $1 Sale Section & It's The Balm Dot Com
Instead of collecting Pokemon as a child, or adult, I wanted to have every single Lip Smackers flavor ever created. Dr. Pepper and Orange Sherbet were two of my favorites, and, oh wait, this just in, Lip Smacker's dollar sale section offers all of your favorites flavors for only a buck! Why didn't I know about this sooner?!
Most of my more mature beauty products cost well over $50, if not reaching into the triple digits. Of course, this means that I can't actually afford to buy or use these products regularly, if at all, but a girl can dream. The one product I've been using all along, however, is affordable AF. I mean seriously affordable, like, cheap. Lip Smacker balms are totally wallet-friendly; the traditional balms sell for $2.50 and you'd be hard pressed to spend more than $5 on any single balm. But who am I to accept paying $2.50 for something that I can get for even less? Lip Smacker has a glorious sale section, adorably named Dollah Dollah Balms Y'all, where you can get some of the best flavors for just $1. That's four quarters, 10 dimes, 20 nickels, 100 pennies, how else can I put it, it's do-able. So break into your piggy bank and count up those coins, it's time to treat yo lips to some flavors of love.
Dr. Pepper
Look! They have my beloved Dr. Pepper Cherry flavor! The site also includes amazingly adorable reviews from their customers. Happy shopper Shaunelle wrote, "YES! This one is so good omg. It's exactly like the Dr. Pepper drink and the cherry scent is just the right touch. Would recommend to buy!!!!" Preach, girl.
7 UP
The green tube brings me back to the days of having a substitute teacher who didn't know what else to do with a fourth grade class other than play Seven Up. This is better.
Orange Crush
Who loves orange soda? Kel loves orange soda. Grape Crush is also available, although I'm partial to citrus. The soda is also much healthier for you in lip balm form, but hopefully you're past the days of chomping down on these flavorful sticks.
Fanta Orange
Can someone please compare these two orange soda flavors and report back to me? I'm Team Wanna Fanta when it comes to actually drinking orange soda, but the jury is still out for lip balm. There's a Fanta Pineapple flavor too? Life is hard, but fruity AF.
Sugar Cookie
This sugar cookie flavor will make you the belle of the ball. If you're more of a sea creature than a sweet, you can try the Little Mermaid-inspired Strawberry Stars Limited Edition Flavor.
Sugared Berry
I'm loving the Disney Princess theme. This Tiana-themed sugar berry flavor will make kissing any frogs that much better. Lip Smacker really knows their audience because there are even more princess-themed products available. Rapunzel fans can try her Magical Glow Berry balm, and Cinderella has a Vanilla Sparkle flavor that sounds delicious.
Strawberry Watermelon
The virtual sale bin also has traditional flavors such as Strawberry Watermelon, Strawberry Banana, Cherry, Sour Grapes, Passion Fruit, and so many more.
DIY Flava Flav
If any of these flavors don't sound mouthwatering to you, you may first want to seek medical attention, but then check out this other little-known lip balm secret, you can request to make your own Lip Smacker flavor! My guess is that your bespoke creation will cost more than $1 if it's made, but likely not by much.
The best part of all this may be that the Lip Smacker website looks like it hasn't been redesigned since the last time I actually bought one of their balms online (you do the math), but it's all part of the nostalgic experience.