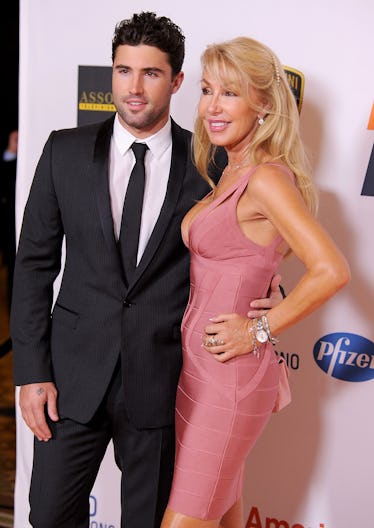 Brody Jenner's Mom Just Threw Major Shade At Caitlyn For Skipping Their Son's Wedding
Frazer Harrison/Getty Images Entertainment/Getty Images
I've been a huge fan of Brody Jenner's ever since the days of his stint on The Hills. I mean, who wasn't? The dude was fine. And TBH, he still is. Still has those sweet, puppy dog eyes, too. Which is why I felt so bad for him when I heard the news that Caitlyn, Kylie, and Kendall Jenner — plus every single one of the Kardashians — were no-shows at his recent wedding. "Scheduling conflicts" was the apparent party line. And while I totally get that these people have busy lives, Brody is Caitlyn's freaking SON! Totally unacceptable in my book. And apparently, in Brody's mom's book, too. Because Linda Thompson's post about Brody Jenner's wedding throws major shade at Caitlyn and I am SO here for it!
Thomspon re-posted her son's video of the beach at the Nihi Sumba Resort on Sumba island, just off the coast of Indonesia, where he tied the knot with Kaitlynn Carter. And if you read between the lines, her post is subtly calling out Caitlyn for being MIA.
"This is the beautiful location where @brodyjenner & @kaitlynn got married!" she wrote in the caption. "Yes, it's on the other side of the world… But I would've gone to the moon and back to share in the joy of my darling son & his beautiful bride getting married! That's what parents do! 😉."
OK, so maybe it's not so subtle. But I am totally #TeamLinda in this case, so go ahead and tell 'em, sis!
Jenner recently opened up to People about being let down because Caitlyn passed on the big occasion. "It was a big disappointment," he said. "Especially considering that she had known about the wedding for a year. I wasn't surprised. I'm pretty used to her doing that sort of thing."
So sad! And get this: Brody also told People that Kendall and Kylie never even responded to their wedding invitations. "My two little sisters, we never even heard from them," he said. "They never even RSVP'd I don't think. We sent them an invite but we just never heard anything back. I would have loved to have had them there."
Um, girls? What the hell is going on here? I get that Kylie's a new mom and everything, and Kenny's all busy with her modeling career, but don't you guys have, like, an assistant or something who can toss an RSVP card back in the mail? Not cool. I mean, whatever happened to family over everything?
Meanwhile, the destination wedding seemed like a super-cool event to me, so it's totally the Kar-Jenner crew's loss that they opted to skip out. Judging from all the pics and videos Brody and Linda posted on Insta, it looks like their guests spent around a week hanging out at the resort before the wedding took place on June 2. There were so many fun pics of the bride and groom and Brody's brother, Brandon, celebrating in Bali. And they were all tagged with the awesome hashtag #JennerIsland. Now I just want that to be a real place so I can book my own trip ASAP.
Look what you missed, Caitlyn!
According to People, Caitlyn was originally set to attend the nuptials, but then "last-minute work commitments" prevented her from being able to get there in time. To make up for it, she's apparently planning to throw Brody and Kaitlynn a party when they get back to town. Whatevs. I'm just so glad Mama Linda was there to throw her love and support Brody and Kaitlynn's way... and to drink out of her son's shoe!
I can't say I have any idea why she did this, but it's clear that this mama is a total rockstar! Congratulations to her beautiful son and his new wife!