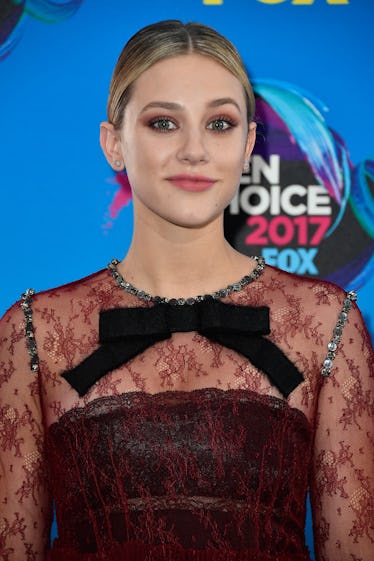 Lili Reinhart Gets Real About Confidence & Her Words Are So Inspiring— EXCLUSIVE
Frazer Harrison/Getty Images Entertainment/Getty Images
Actress Lili Reinhart knows a thing or two about being true to yourself. At just 21 years old, the young actress seems to have the confidence of a wise, elderly woman who has lived, honey. Despite the usual pressures of Hollywood, Reinhart is grounded, generous, and empowering to those around her. In an exclusive interview with Elite Daily, Lili Reinhart got real about confidence, and her words are getting me through today (and will probably get me through the rest of my week, TBH).
Reinhart and her Riverdale co-star Camila Mendes partnered with JCPenney and the YMCA for a super fun campaign that's all about confidence and being yourself. For the campaign, Reinhart and Mendes teamed up to style young teens for prom. (Dude, the video of their surprise is such a blast.) Mendes and Reinhart helped a handful of teens figure out their prom looks from head to toe, including their clothing, shoes, jewelry, and hair. You name it, and they got it. These ladies hooked these teens up. "The whole point of this campaign is to go to prom feeling like your best self and glammed up," Reinhart tells Elite Daily.
Um, yes. More of that, please.
It's this kind of approach to individuality that makes Reinhart feel so wise. While speaking with Elite Daily, she really emphasized the importance of being your true, authentic self, and it's clear the teens felt that during their style sessions with her and Mendes.
Take a look at the party, and try not to be jealous.
Hi, red suit. Hi, amazing hair. Hi, Lili and Camila.
Often times, teens feel a lot of pressure around prom season, which can make things a bit more stressful than fun. A lot of young peeps feel the need to make prom "the perfect night," and those struggling with self-confidence might go into the evening with a lot of anxiety. Reinhart has the best advice for teens who need a little confidence booster. "Don't think of prom as like this huge thing that's hanging over your head that's gonna make or break your high school experience," she says. "I think just go into it with the idea that you're there to have fun and celebrate the end of your high school experience, and don't put too much pressure on the occasion yourself. Just go into it with the idea of having fun with your friends and I think that makes all the difference, just how you approach the idea of prom itself."
And, if you're worried about your date situation, don't sweat it. Reinhart has some advice for that, too (even though she never went to prom herself).
I never went to prom because I was doing online school at the time for the latter half of my high school. But, if I did go to prom, I would have gone with my friends, a big group of friends. I always thought that was always the most fun way to approach dances and to not put so much pressure on the occasion itself.
Her resounding message? Don't take yourself so seriously and always remember to have fun. When it comes to her own sense of fashion, Reinhart says she tries to focus on what makes her comfortable:
I think outfits, like a well put together outfit, is something that makes anyone feel more confident, especially me. And you know, I'm not necessarily a fashionista. I don't dress up on a daily basis. I don't often wear very polished put together outfits... I feel confident in an amazing pair of jeans.
Girl, preach. Thank you for the dose of self-love and confidence!
For all your prom-goers are there, don't do anything Lili wouldn't do, and HAVE FUN!
Check out the entire Gen Why series and other videos on Facebook and the Bustle app across Apple TV, Roku, and Amazon Fire TV.