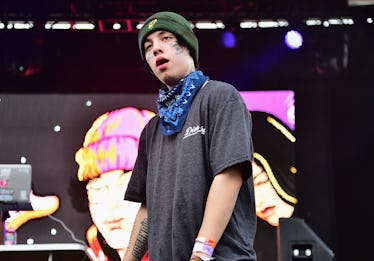 Lil Xan Was Hospitalized After Eating Too Many Flamin' Hot Cheetos, So Be Warned
Theo Wargo/Getty Images Entertainment/Getty Images
Lil Xan has been through a lot lately. Between his breakup with Noah Cyrus and a recent health scare, the 22-year-old rapper has definitely seen better days. That recent health scare, by the way, resulted in a trip to the hospital. Yup, Lil Xan was hospitalized, and the reason will probably make you reconsider what you snack on.
Apparently, Lil Xan was hospitalized because he ate too many Flamin' Hot Cheetos. In a video posted to Instagram on Monday, Sept. 24, Lil Xan explained what happened to him.
"I just want to let everyone know I was in the hospital not due to any drugs, but I guess I ate too many Hot Cheetos, and it ripped something in my stomach open," he said.
Yikes! That sounds super painful. Thankfully, Lil Xan seems to be doing just fine. In the video, you can see what looks to be the rapper's apartment, which is basically a huge mess. Lil Xan was packing to go on tour when the Flamin' Hot Cheetos hit his stomach the wrong way.
Lil Xan captioned his video with, "Just wanna let everyone know that I'm good,healthier then I've ever been and ready to kick of my third Tour in NY ina couple days ! Also be careful,Hot Cheetos are one hell of a drug aha ! 💔 love you all ! 💔'Be Safe' Coming soon !💔💔💔💔"
The good news is he's back home now and getting ready to go to New York to start his tour.
Here's a look at the short video Lil Xan posted after his trip to the hospital:
The rapper also documented his trip to the hospital in his Instagram Story. He posted a view from the back of the ambulance while he was en route to the emergency room. Here's what he showed fans on Instagram:
Lil Xan isn't the first person to have stomach issues after eating hot snacks. Back in July, a girl in Memphis had to have her gallbladder removed after consuming too many hot snacks. At the time, the girl's mother Rene Craighead, explained how much her daughter loved spicy snacks.
"She loves them. Every time I go out she says, 'Bring me back some Hot Takis, bring me back some Hot Chips,'" Craighead told WREG. "She was eating big bags and would take them to school with her."
Shortly after, in August, WebMD published an article explaining that stomach and intestinal problems can potentially result from eating hot chips. So, be warned that your fave chips or Cheetos could possibly land you in the hospital.
In any case, Lil Xan seems to be doing just fine now. He's all set to kick off his tour on Wednesday, September 26 at Irving Plaza in New York. From there, the tour, which is called Total Xanarchy, will take the rapper to cities like Boston, Milwaukee, Indianapolis, and Cincinnati. So, Lil Xan has a very full schedule ahead of him.
Hopefully, his Cheeto-induced stomach problems won't present any issues during his tour.