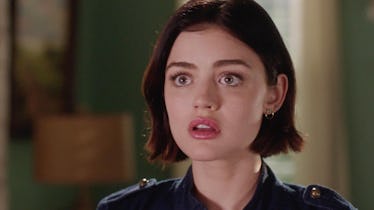 'Life Sentence' Was Canceled After 1 Season & Lucy Hale Has A Message For Fans
The CW
Sadly, yet another new TV show is being laid to rest. The CW midseason entry Life Sentence was canceled after just one season and star Lucy Hale took to social media on Tuesday to express her feelings about the unfortunate news. The Pretty Little Liars actress not only revealed her devotion to the project, she expressed gratitude and pride for being able to be a part of the short-lived dramedy, and called the cancelation a "life lesson." She also thanked fans for their continued love and support. A portion of Hale's touching caption read:
I was emotionally attached to this story and to everyone involved so I'm a little shell shocked right now, but I feel fortunate that we got to tell a really beautiful story. Sometimes things don't resonate with the audience and shows just don't work, but I'm so proud of what we accomplished & for the experience I had. Life sentence was a show that a lot of us needed and I am beyond grateful for those who gave our show a chance. Somewhere in the universe the Abbotts will continue their dysfunctional lives & Stella will continue to be a manic pixie dream girl.
Life Sentence, about a 20-something who gets a new lease on life when she learns her cancer has been cured, premiered on March 7, 2018, and its series finale will air on June 15 after airing just 13 episodes in total. A possible tip-off that the series wasn't performing to the CW's expectations may have been when the network decided at the end of March to move the show from Wednesday to Friday.
Life Sentence isn't the only CW freshman series to get the axe of late. Military drama Valor also won't be returning. But it's not all bad news... The network has renewed favorites like Jane the Virgin, Arrow, Riverdale, Black Lightning, The 100, and Crazy Ex-Girlfriend. Phew. The very long-running Supernatural will head into its 14th season next year.
This is the time of year where cancelation, renewal, and final season announcements start rolling in, so prepare for more exciting revelations and maybe some heartbreak along the way (sorry, Shades of Blue fans.) It was recently reported that Unbreakable Kimmy Schmidt's upcoming fourth season — which starts streaming on Netflix May 30 — will be the Emmy-nominated comedy's last. Netflix actually pulled the plug on a handful of its original shows after their first seasons, including Everything Sucks! and Seven Seconds.
Audiences can also get ready to mourn some long-running small screen favorites. ABC's Once Upon a Time is saying goodbye soon, as is Fox's New Girl. BET's Being Mary Jane will end with a movie later this year and FXX's You're the Worst will wrap after five seasons. Gladiators everywhere are still reeling over the loss of TGIT's staple Scandal, which ended its groundbreaking run in April.
Lucy Hale might be one of the people feeling the burn of the cancelation machine right now, but the singer/actress has already had a busy few years outside of her TV show. She recently starred in the horror flick Truth or Dare and the Netflix movie Dude. What's next for the former Aria Montgomery?
"I love very character-driven movies. Lady Bird is a dream project," Hale told W Magazine earlier this year. "Not that I don't like blockbuster movies. If somebody called me up and said, 'Want to be in Wonder Women 2?' Like, obviously."
Hear that, casting directors?
It's clear that Lucy had a connection to her work on Life Sentence, but now fans can look forward to her next entertainment chapter.